IBM recently announced the addition of a Brocade Fibre Channel over Ethernet (FCoE) switch module for the IBM BladeCenter designed to deliver up to 24% savings over traditional 10Gb Ethernet & 8Gb FC setup. 
The Brocade Converged 10GbE Switch Module for IBM BladeCenter allows for users to separate their 10GbE traffic from their 8Gb fibre traffic at the switch module that sits inside the IBM BladeCenter chassis.  The module is designed to offer up to 30 ports – 14 internal and 16 external.  The 16 external ports provides up to 8 x 8Gbps FC ports and 8 x 10GbE ports.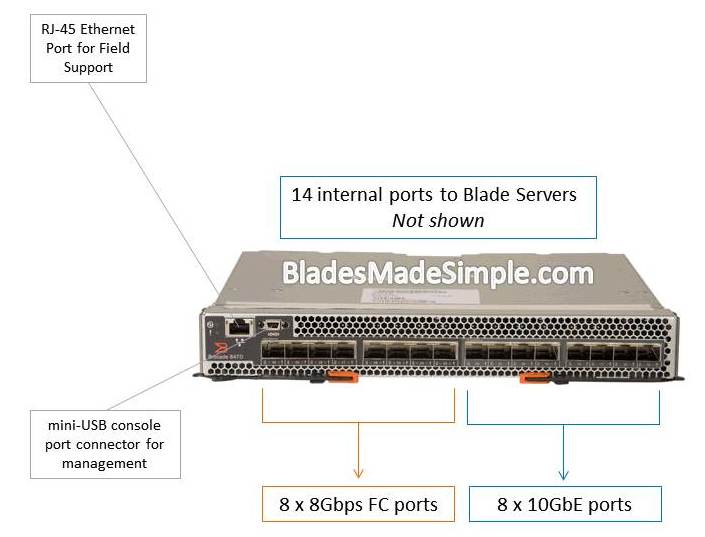 The Brocade Converged 10GbE Switch Module is IBM Part Number 69Y1909 and comes standard with 16 of the 30 ports activated.  In the base model, two external CEE ports (ports 15 and 16) are pre-licensed and are pre-installed with two 10GbE optical transceivers. The remaining 14 licenses are available to be assigned to other internal or external ports in any combination of external CEE ports, external FC ports, or internal CEE ports.  IBM is referring to this as Dynamic Port on Demand (DPoD). 
Additional ports can be activated by purchasing the Brocade Converged 10GbE Switch Port Upgrade, part number 69Y1917. This upgrade option activates the license for the remaining 14 ports. All internal and external ports will then be licensed and can be used.
The Brocade Converged 10GbE Switch Module for IBM BladeCenter works in bays 7=10 of the IBM BladeCenter H chassis and IBM BladeCenter HT chassis.  The module communicates with the converged network adapter (CNA) in the 2nd daughter card slot (CFF-h) of the IBM blade server.  The module is currently compatible with the Brocade 2-port 10GbE Converged Network Adapter (IBM Part Number 81Y1650) and the QLogic 2-port 10Gb Converged Network Adapter (IBM Part Number 42C1830).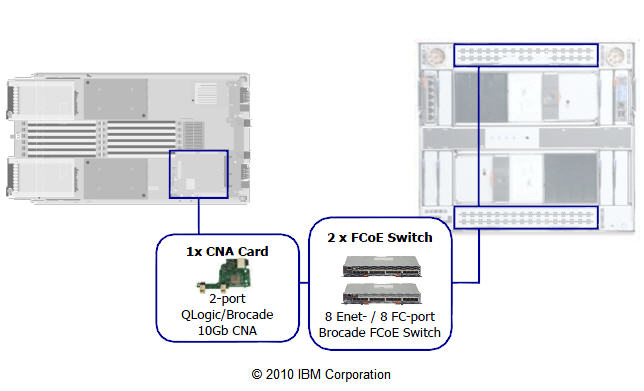 According to IBM, the converged switch modules have the following features:
Eight external 10 Gb Converged Enhanced Ethernet ports
Eight external auto-negotiated Fibre Channel ports (2 Gbps, 4 Gbps, or 8 Gbps)
14 internal auto-negotiated 10 GbE ports (1 Gbps or 10 Gbps)
Two internal full-duplex 100 Mbps Ethernet interfaces for management purposes
One external RS232 console port with a mini-USB interface for serial console management
One external 10/100/1000 Mb RJ45 Ethernet copper port for debugging and field support
CEE features

Priority-based Flow Control (PFC): IEEE 802.1Qbb
Enhanced Transmission Selection (ETS): IEEE 802.1Qaz
Data Center Bridging eXchange (DCBX)

Layer 2 features

Layer 2 Virtual Local Area Networks (VLANs): 4096
VLAN Encapsulation 802.1Q
Rapid Spanning Tree Protocol (RSTP)
Multiple Spanning Tree MSTP (802.1s): 16 instances
Link Aggregation Control Protocol (LACP) IEEE- 802.3ad
Brocade enhanced frame-based trunking
Advanced PortChannel hashing based on Layer 2, 3, and 4 information
Pause Frames (802.3x)
Storm Control (unicast, multicast, and broadcast)
Address Resolution Protocol (ARP) RFC 826

Layer 2 security

Ingress Access Control Lists (ACLs)
Standard and extended Layer 2 ACLs
VLAN-based ACLs (VACLs)
Port-based ACLs (PACLs)
ACL statistics
Port-based Network Access Control: IEEE 802.1X

Layer 2 Quality of Service (QoS)

Eight priority levels for QoS
IEEE 802.1p Class of Service (CoS)
Eight hardware queues per port
Per-port QoS configuration
CoS trust: IEEE 802.1p
Per-port Virtual Output Queuing
CoS-based egress queuing
Egress strict priority queuing
Egress port-based scheduling: Weighted Round-Robin (WRR)

Layer 3 features
External Fibre Channel ports that can operate as F_ports (fabric ports), FL_ports (fabric loop ports), or E_ports (expansion ports)
FC fabric services

Simple Name Server (SNS)
Registered State Change Notification (RSCN)
Dynamic Path Selection (DPS)
Enhanced Group Management (EGM)
ISL Trunking (optional)
Fabric Watch (optional)
Advanced Performance Monitor (optional)

Power-on self-test diagnostics and status reporting
While it appears that IBM is simply copying HP's Virtual Connect FlexFabric 10Gb/24-Port Module I don't believe they are.  Think about it.  HP's offering was revealed in June.  There is no way that IBM could come up with something in 4 months.  Even HP's Chief Architect admitted to me in an interview  that it takes about 3 years to come up with a new blade product.  Even when you look at the two products side-by-side, there are a couple of differences.  IBM's offering supports up to 16 external ports vs HP's 8 external ports.  IBM's offering has 8 fixed 10GbE and 8 fixed Fibre whereas HP has 4 fixed 10GbE and 4 flexible (either 10GbE or Fibre.) 
Let me know what you think.  It this hot, or is this not?