May 24, 2011  – IDC came out with their 1Q 2011 worldwide server market revenue report today showing that Cisco has finally entered the market standings with a 3rd place standing at 9.4% factory revenue share .  IDC's findings also showed that both HP and IBM decreased their blade server market share from Q4 2010.
According to IDC, worldwide server sales (all servers, not just blade servers) for 1Q 2011 increased 12.1 % year over year to $11.9 billion in factory revenues. IDC also reported the blade server market accelerated and continued its strong growth in 1Q with revenue increasing 23.8% year over year with shipments increasing to 5.4% compared to 1Q 2010.  Overall, blade servers represent 15.2% of the quarterly worldwide server revenues.  Interestingly enough, 90% of all blade revenue is driven by x86 systems, a segment in which blades now represent 20.5% of all x86 server revenue.
Here's a summary of the top 4 blade server market share (based on factory revenue share):
#1 market share: HP decreased their market share from 53.4% in Q4 2010 to 50.0% in Q1 2011
#2 market share: IBM decreased their market share from 28.1% in Q4 2010 to 20.2% in Q1 2011.
#3 market share: Cisco at 9.4% in Q1 2011
#4 market share: Dell at 8.2% in Q1 2011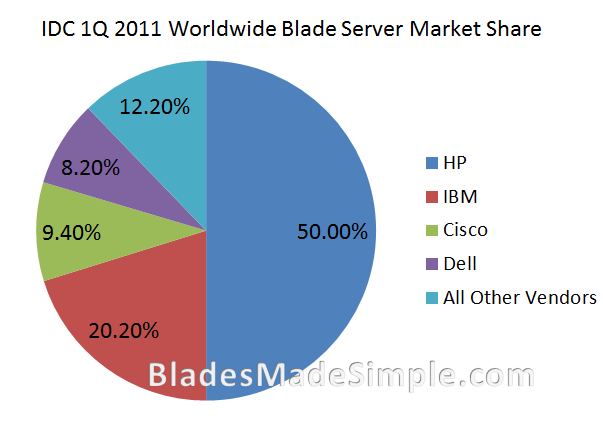 HP maintains the #1 market share spot now holding an impressive 50% of all blade server factory revenue market share.  An interesting observation, though, is that both HP and IBM have fallen over the past 12 months when compared to Q1 2010.  As you can see in the chart, HP dropped 6.2% market share and IBM fell 3.4% market share year-over-year.  Is this contributed to Cisco's entry into the market place?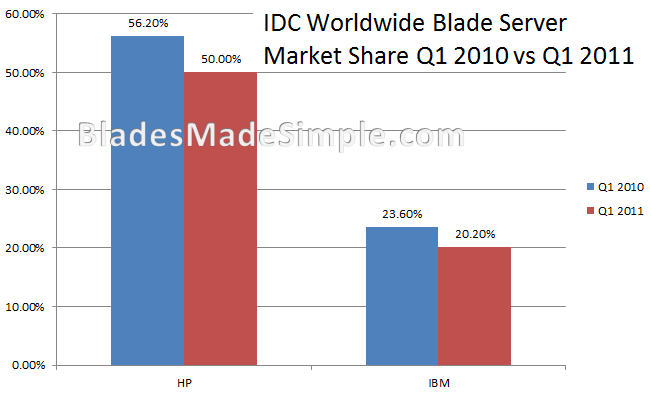 According to Jed Scaramella, research manager, Enterprise Servers at IDC, "After several years of being a highly consolidated market where the top 3 vendor accounted for over 80% of blade revenue, the recent entry of Cisco has introduced a viable new competitor to the market."  While the quantities of Cisco UCS customers were not mentioned into the IDC report, according to Cisco's Omar Sultan's blog (http://blogs.cisco.com/datacenter/they-were-wrong-about-ucs-what-else-are-they-wrong-about/) , there are 3,820 customers as of Cisco's 2nd Fiscal Quarter 2011.
For a full summary of the IDC Quarterly Server Tracker report, visit my other blog at:
http://corus360.com/company/blog/idc-shows-hp-as-the-server-leader-for-q1-2011