Intel announced on Tuesday their next generation of 2 socket CPU – the Intel Xeon E5-2600.  Formerly code named, "Sandy Bridge," the E5-2600 is a follow on to the Intel Xeon 5600 series family and offers a real performance increase.  In fact, Intel is boasting performance increases from 43% to 62% (depending on the vendor and benchmark.)  What is contributing to this massive increase in performance?  Let's take a look.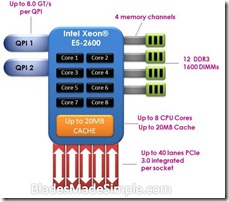 Compared to previous generation Intel Xeon 5600, the Intel Xeon E5-2600 provides:
Additional CPU Cores – up to 2 additional CPU cores and Up to 8MB more cache
Increased Memory – up to 24 DDR3 Memory DIMMs are available per 2 CPU system.  In addition, 32GB DIMMs are supported giving a maximum capacity of 768GB RAM (in a 2 CPU configuration.)
Higher Bandwidth – not only does Intel add a 2nd Quick Path Interconnect (QPI) between the CPUs, they also increased the maximum communication speed to 8.0 GigaTransfers per Second (GT/s).  Compared to the Intel Xeon 5600, which had a single QPI that ran at 6.4GT/s, the intra-CPU communication alone provides huge performance gains.  Not to be overlooked, Intel also increased the maximum throughput on the memory channels from 1333MHz to 1600MHz.
Tighter Integration – the Intel Xeon E5-2600 marks the beginning of a new era of I/O.  The PCI express lanes are now integrated into the platform providing up to 40 lanes of PCIe communication

directly

to the CPU.  Previous generations used an I/O Hub (or IOH) which served as a sort of traffic cop for PCIe I/O.  With the PCIe being integrated into the chipset, I/O communication is up to 30% faster and provides additional power savings.  Intel's integration of the PCIe I/O subsystem into the CPU will allow for near future performance using PCIe 3.0 peripherals to provide a 2X performance over previous PCIe generations.
When you combine all of this together, you have a two socket CPU capable of running 16 CPU cores (32 if using Hyper-Threading), 24 memory DIMMs with a maximum capacity of 768GB RAM and 80 PCIe 3.0 I/O lanes. Up until now, these numbers were only available in a large rack mount server but with the release of the Intel Xeon E5-2600, we can now expect to see this performance and ability in 1U servers and even in a blade server form factor.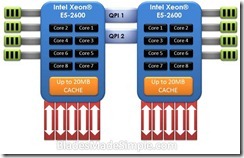 Other Improvements
While the Intel Xeon E5-2600's performance over the previous Intel Xeon 5600 is the sexy part of the new offering, there are some other features that shouldn't be overlooked:
Better Performance at Lower Power – the improvement in the architecture has allowed Intel to achieve up to 70% better performance at the same power footprint.  This is done by allowing the system to reduce the power to the memory, cache, I/O and other CPU functions when performance isn't needed (i.e. when idle.)  As well, the CPUs takes advantage of Intel Intelligent Power Technologies like integrated power gate, but that is a bit out of the scope of my goal of "keeping things simple" – so head over to Intel for more on that topic.
New Intel Advanced Vector Extensions (AVX) – according to Intel, "AVX is a collection of CPU instructions that increase floating point performance by doubling the length of the FP registers to 256-bits and reducing the number of operations required to execute large FP tasks."  In other words, it allows the CPU to do more complicated instructions quicker.  If you run technical, financial, scientific & content creation applications – you probably already know about AVX, so get excited – AVX is better with the Intel Xeon E5-2600.
Check back to BladesMadeSimple.com for continued updates as Dell, HP, IBM and Cisco release their blade servers with the Intel Xeon E5-2600 CPU.
Kevin Houston is the founder and Editor-in-Chief of BladesMadeSimple.com.  He has over 15 years of experience in the x86 server marketplace.  Since 1997 Kevin has worked at several resellers in the Atlanta area, and has a vast array of competitive x86 server knowledge and certifications as well as an in-depth understanding of VMware and Citrix virtualization.    Kevin works for Dell as a Server Specialist covering the Global 500 East market.