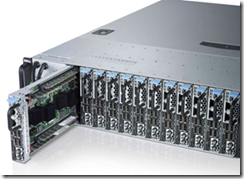 Until today, I've not discussed modular hybrid server platforms like Dell's PowerEdge C platform or HP's ProLiant SL Servers because I personally do not think they should be classified as a "blade server."  Perhaps I'm old school, but in order to qualify as a blade server, there must be 1) shared infrastructure 2) shared power/cooling, 3) shared I/O and 4) shared infrastructure management.  When I look at hybrid platforms like the ones mentioned above, I don't feel they qualify as a blade server – however the marketplace, seems comfortable claiming these products as blade servers, hence today's posting.  If you agree with me and feel this is not a true blade server, then feel free to move along to another blog article.
This week Dell publicly announced the addition of an ARM processor based server to its PowerEdge C family.  Codenamed, "Copper", the product appears to be based on the PowerEdge C 5220 series of servers.  If you aren't familiar with the PowerEdge C5000 family – it is a 3U chassis that is capable of holding up to 12 microserver boards (i.e. blades) called sleds.  The C5000 chassis provides shared power, cooling and server management however the sleds require direct network connectivity.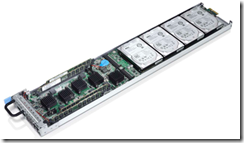 Each sled hosts 4 x ARM-based servers using the Armada CPU.  Each server node will have access to 1 SATA hard drive or flash drive, 1 DIMM slot (up to 8GB RAM) and 1 GbE input into a non-blocking L2 switch per sled.  Notice, this all fits on 1 board and 12 of these boards will fit inside the C5000 chassis, therefore you can have up to 48 ARM server nodes within the 3U C5000 chassis.  Although the 4 ARM nodes per sled are isolated to the board, it does have the ability to talk to the other ARM nodes within the C5000 chassis.
Workloads
When I first looked at those specifications, I wondered why would anyone want a server node with 1 DIMM.  The reality is that with the types of workloads that the ARM processor focuses on don't need the typical horsepower we see in Intel and AMD servers today.  In fact, these servers are ideal for web front-end and Hadoop environments where advantages in performance per dollar and performance per watt are critical.
Availability
According to the press release, the Dell "Copper"ARM server will be delivered to "select customers and partners" like Canonical, and Cloudera.  They will also be showcased in the Dell Solutions Centers as well as the Texas Advanced Computing Center in Austin, but for now there is no information on general availability at this time.
I'll leave you with a nice 4 minute overview from Christina Tiner, Product Manager for the ARM server at Dell.  Take a few minutes to check it out, as she provides some close up details on this new offering.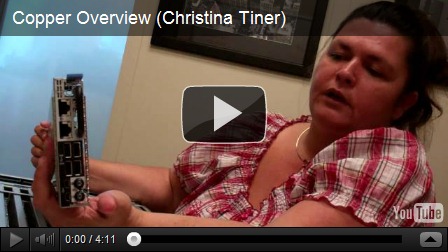 Dell Data Center Solutions Product Planner Christina Tiner gives an overview of the first ARM-based server shipping to customers as part of a seed program.
For more details on the Dell "Copper" ARM server, visit www.dell.com/armserver
Press release for the Dell "Copper" ARM server can be found here.
Kevin Houston is the founder and Editor-in-Chief of BladesMadeSimple.com.  He has over 15 years of experience in the x86 server marketplace.  Since 1997 Kevin has worked at several resellers in the Atlanta area, and has a vast array of competitive x86 server knowledge and certifications as well as an in-depth understanding of VMware and Citrix virtualization.  Kevin works for Dell as a Server Specialist covering the Global 500 East market.