A recent patent search shows an application by Microsoft on December 19, 2013 for a "Tray and Chassis Blade Server" hinting that Microsoft may be ready to get into the server hardware market. 
US patent # US 2013/0335907 A1, assigned to "Microsoft Corporation" states the following:
"In computing scenarios involving an aggregation of multiple computational units into a server or computer set, many architectures may be devised to provide physical storage and logical aggregation of the computational units. Presented herein are variations of one such architecture, comprising a chassis having a set of slots, into which may be inserted a tray storing the computational units of one or more blades. Respective trays and chassis slots comprise a power connector and a network connector that are positioned to connect directly (i.e., without a cable or manual interaction) when a tray is inserted into a slot. The chassis stores a set of power supplies, and may connect each blade with a power supply, optionally providing power routing and failover capabilities. The chassis may also provide a management component that connects to and provides management capabilities of the blades of the trays. power supplies. and climate regulation components."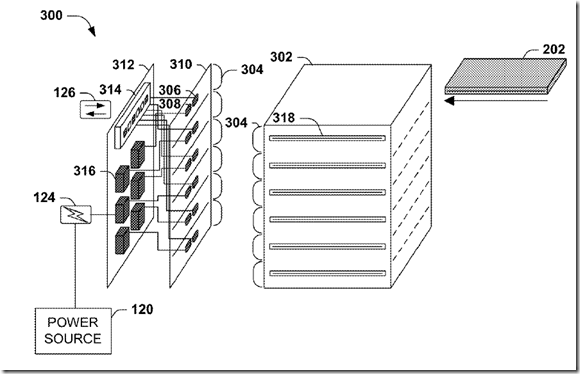 Although Microsoft has ownership in the new Dell, news of their investigation into the server market shouldn't be too shocking when you look at what they've done in the tablet market.  Traditionally, Microsoft has been focused on providing the operating system (OS) for a given client or server, however with Windows 8, Microsoft released the Surface and Surface Pro jumping into direct competition with Dell, HP and Lenovo.  Based on the success of the Microsoft Surface, recent findings of the patent application of a blade server by Microsoft is the next step in Microsoft's drive toward becoming both a software and hardware provider.  The application was filed by Microsoft on June 13, 2012 and published by the United States Patent and Trademark Office on December 19, 2013.  My honest first thought on this is "why?"  There are great blade server technology providers already established with Cisco, Dell, HP and IBM, so why would Microsoft see the need to get into the market?  My guess would be to gain more of the Lion's Share…  When you look at the fact that IDC is now showing market share data from Original Design Manufacturers (ODMs), perhaps Microsoft feels they should get part of that market.  I think, however, it's going to harm their relationship with Dell and further harm it with HP so I don't understand the reasoning.
Please let me know your thoughts.  Are we in for a 5th blade server contender in the near future???
Kevin Houston is the founder and Editor-in-Chief of BladesMadeSimple.com.  He has over 15 years of experience in the x86 server marketplace.  Since 1997 Kevin has worked at several resellers in the Atlanta area, and has a vast array of competitive x86 server knowledge and certifications as well as an in-depth understanding of VMware and Citrix virtualization.  Kevin works for Dell as a Server Sales Engineer covering the Global Enterprise market.
Disclaimer: The views presented in this blog are personal views and may or may not reflect any of the contributors' employer's positions. Furthermore, the content is not reviewed, approved or published by any employer.