This month Cisco announced a new addition to the UCS family – a mini Fabric Interconnect, called the UCS 6324 Fabric Interconnect, which unlike the ones before it plugs directly into the UCS 5108 chassis.  With connectivity for up to 15 servers (8 blade servers and up to 7 direct-connect rack servers), the 6324 is geared toward small environments.
6324 FI Overview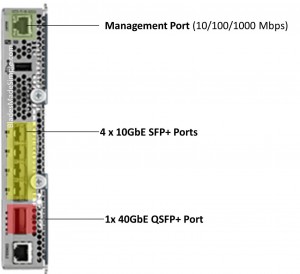 Each 6324 FI module contains:
16 x 10GbE internal ports (2 per 1/2 width slot)
4 x 10Gb SFP+ external uplink ports
1 x 40Gb QSFP+ scalability port
1 x 10/100/1000 Mbps Management port for out-of-band management
The 4 external uplink ports can be configured as 1/10 Gigabit Ethernet or 2/4/8-Gbps Fibre Channel ports.  The scalability port is designed to allow for connectivity to up to 4 x UCS rack servers with a post-release feature of also allowing a 2nd UCS 5108 chassis to interconnect.
The 6324 FI provides Layer 2 forwarding with support for:
VLAN trunks
IEEE 802.1Q VLAN encapsulation
Support for up to 512 VLANs and 32 virtual SANs (VSANs) per interconnect
Jumbo frames on all ports (up to 9216 bytes)
Link Aggregation Control Protocol (LACP): IEEE 802.3ad
Internet Group Management Protocol (IGMP) Versions 1, 2, and 3 snooping
Advanced EtherChannel hashing based on Layer 2, 3, and 4 information
Pause frames (IEEE 802.3x)
Layer 2 IEEE 802.1p (class of service [CoS])
It is also rumored that UPDATED – based on the information from UCSGuru (below) a new an updated UCS 5108 blade chassis will be coming out soon which will allow for heartbeat and cluster connectivity between the UCS 6324 FI modules inside a chassis as well as support for "dual voltage" power supplies.
Here is a list of additional blogs and websites to visit for more information:
Cisco UCS 6324 Fabric Interconnect Spec Sheet: http://www.cisco.com/c/en/us/products/collateral/servers-unified-computing/ucs-6300-series-fabric-interconnects/datasheet-c78-732207.pdf
"The baby UCS" from TJ's Thoughts:
http://www.tbijlsma.com/2014/07/a-baby-ucs/
"Mini version of Cisco UCS Review – Part 1" from LostDomain.org:
http://lostdomain.org/2014/07/15/mini-version-of-cisco-ucs-review-part-1/
"Introducing the Cisco UCS 6324 Fabric Interconnect!" – from Partly Cloudy:
http://thepartlycloudyblog.com/introducing-the-cisco-ucs-6324-fabric-interconnect/
"Cisco UCS has had a baby (Mother and Daughterboard doing well)" from UCSGuru.com:
http://ucsguru.com/2014/07/22/cisco-ucs-has-had-a-baby-mother-and-daughterboard-doing-well/
Kevin Houston is the founder and Editor-in-Chief of BladesMadeSimple.com.  He has over 17 years of experience in the x86 server marketplace.  Since 1997 Kevin has worked at several resellers in the Atlanta area, and has a vast array of competitive x86 server knowledge and certifications as well as an in-depth understanding of VMware and Citrix virtualization.  Kevin works for Dell as a Server Sales Engineer covering the Global Enterprise market.
Disclaimer: The views presented in this blog are personal views and may or may not reflect any of the contributors' employer's positions. Furthermore, the content is not reviewed, approved or published by any employer.