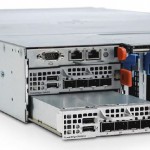 Dell's FN I/O Modules (FN IOMs) are integrated devices that sit in the rear of the FX2 chassis and behave like traditional network switches.  The FN IOMs provide 8 x 10GbE internal ports to the connected server nodes while offering 4 x 10GbE external links for upstream connectivity.  What makes the FN I/O Module unique is that it supports 5 operational modes: Standalone (SMUX), VLT, Stacking, Programmable MUX (PMUX) and Full-switch.  Below are details on each of these modes.
Standalone Mode
This is the default mode from the factory for the FN I/O Module.  This mode is full-automated requiring "zero touch" allowing VLANs to be defined on the server-facing ports while all 

upstream

ports are configured in port channel 128.  This port configuration cannot be modified in this mode.
VLT Mode
This is a "lower touch" mode that allows for total automation except for VLAN membership.  This mode provides an active-active, multi-path for servers.  Port 9 is dedicated for VLT (virtual link trunking) in this mode.
Stacking Mode
This mode is designed to allow for multiple FN I/O Modules to be combined to make a single logical switch, managed by the designated master switch within the stack.  This mode is used when simplified management of FN IOMs is desired.  Up to 6 FN IOMs can be placed within a stack.
Programmable MUX Mode (PMUX)
This mode extends the operational flexibility of the FN IOM to allow the user to create multiple LAGs, configure VLANs on uplinks and to configure DCB parameters on the server-facing ports.  This mode also uses command line interface (CLI) for configuration, ideal for many network administrators.
Full-Switch Mode
This is the only mode that allows for Layer 2/3 switching and it enables all features of the switch to be customized via CLI.
These modes can be set up via CLI, or via the Dell Blade I/O Manager software.  For a quick video on this tool, check out https://www.youtube.com/watch?v=uSmDagdtlws
If you are interested in learning more about these modes, or in information about deploying an FN I/O Module, please download the PowerEdge FX2 – FN IO Module – VLT Deployment Guide (2.5Mb)

Kevin Houston is the founder and Editor-in-Chief of BladesMadeSimple.com.  He has over 18 years of experience in the x86 server marketplace.  Since 1997 Kevin has worked at several resellers in the Atlanta area, and has a vast array of competitive x86 server knowledge and certifications as well as an in-depth understanding of VMware and Citrix virtualization.  Kevin works for Dell as a Server Sales Engineer covering the Global Enterprise market.
Disclaimer: The views presented in this blog are personal views and may or may not reflect any of the contributors' employer's positions. Furthermore, the content is not reviewed, approved or published by any employer.