As the new year kicks off, Dell EMC leadership has made it clear that the partnership with Cisco is as strong as always.  Cisco's UCS is the compute layer of the Dell EMC Vblock so many wondered if there would be a "Dblock" or something similar using the PowerEdge blade server product from the former VCE group and the answer is an astounding "NO!"  (In case you missed it, check out Chad Sakac's blog post, "Vblock and VxBlock Use Cisco UCS.  Got it?")  
In addition, CRN reported earlier this month that Ravi Pendekanti, senior vice president of product management and marketing for Dell PowerEdge servers stated, "Since we said we're going to be completely transparent between [the Dell and EMC] organizations, our intention is not to change the current portfolio," Pendekanti said. "We're going to remain as it is, and will continue with the success we have gained over the last few years by using Cisco UCS."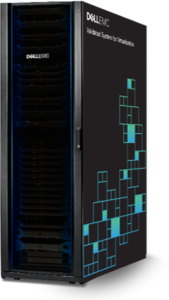 So does that mean there will never be a validated stack with PowerEdge gear? Of course not.  In fact, Dell EMC silently released in October a comparable offering to the Dell EMC Vblock called the "Dell EMC Validated System for Virtualization."
The Dell EMC Validated System for Virtualization is a tested and validated converged system that integrates the hardware, software and services helping to simplify deployments and speed up deployments.  Essentially it delivers the same values as the Vblock but uses PowerEdge servers and SC Storage.  The goal of this new converged offering is to allow users the flexibility to pick their compute and storage based upon their needs.  Here's how:
A user goes to Dell EMC's "Solution Builder for Dell EMC Validated System for Virtualization" (yes, the Marketing person who created this gets paid by the letter…)
Once the language is picked, the user goes through a series of steps:

choose how you want to deploy the system (DIY or Services led)
choose your storage (FC, iSCSI or Software Defined Storage)
choose whether you want high density  blade servers) or discrete servers (rack servers)
choose how you want to size the system (aggregate CPU, memory, disk resource or based on number and profile of VMs)
enter the VM or aggregate resource details
choose your storage requirements (IOPs, capacity)
choose your server NIC type (i.e. Intel, QLogic)
answer a few additional questions around the VMware options you want in the solution

After completing the 8 steps, the user reviews the data input then clicks on "Get Recommendation."  The result is a detailed diagram showing what the solution would look like along with a"Solution ID" that can be delivered to your Dell EMC Team and converted to a quote.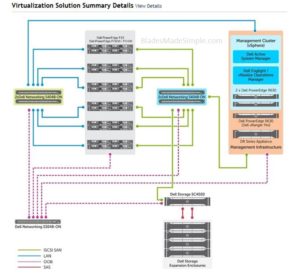 As an example, I walked through the Solution Advisor and chose a high density, iSCSI storage solution that needed 500 CPU cores, 256GB of RAM, 1000 IOPS and 20TB of storage.  To the left is the diagram of the summary and here is the PDF it generated: ValidatedSystemSolutionSummary
In summary, the Dell EMC Vblock isn't going away and it isn't getting Dell PowerEdge gear.  However, if you would like to get a comparable solution that offers you flexibility and choice in VMware virtualization in a fully tested and validated integrated system, the Dell EMC Validated System for Virtualization is something to consider.
On a final note, the System Builder page shows that a Microsoft solution is coming soon, so stay tuned.


Kevin Houston is the founder and Editor-in-Chief of BladesMadeSimple.com.  He has 20 years of experience in the x86 server marketplace.  Since 1997 Kevin has worked at several resellers in the Atlanta area, and has a vast array of competitive x86 server knowledge and certifications as well as an in-depth understanding of VMware and Citrix virtualization.  Kevin has worked at Dell EMC as a Server Sales Engineer covering the Global Enterprise market since August 2011.
Disclaimer: The views presented in this blog are personal views and may or may not reflect any of the contributors' employer's positions. Furthermore, the content is not reviewed, approved or published by any employer.