If you are using Dell blade servers, I may have a little known resource that could help you.  Ever heard of the "PowerEdge MX I/O Guide?"  If not, I'm not surprised.  It was primarily used as an internal resource, but now it's available to the public.
What can you find in the PowerEdge MX I/O Guide?
The sum of it is "all things network related in the PowerEdge MX architecture."  This includes: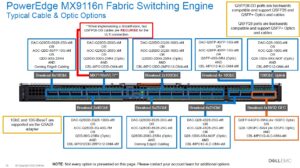 Overviews of the Dell Technologies blade server architecture
Deep dive specs of the different network I/O options
Breakout options for using the MX7116n with Dell Networking switches
Example topologies
Cable & Optic Information
What's New in This Version?
The latest version (v.1.7), released last week, provides the following:
Clarification of some content, including the number of NPAR (network partitions)for Marvell NICs
An updated number of maximum supported VLANs for switches
Updated MX7116n breakout options for 10G Support
Where can you find the PowerEdge MX I/O Guide?
Version 1.7 of the MX I/O Guide is available download here:
https://www.dellemc.com/resources/en-us/asset/quick-reference-guides/products/networking/PowerEdge_MX_IO_Guide.pdf

Kevin Houston is the founder and Editor-in-Chief of BladesMadeSimple.com.  He has over 20 years of experience in the x86 server marketplace.  Since 1997 Kevin has worked at several resellers in the Atlanta area, and has a vast array of competitive x86 server knowledge and certifications as well as an in-depth understanding of VMware and Citrix virtualization.  Kevin has worked at Dell Technologies since August 2011 and he is a Principal Engineer and Chief Technical Server Architect supporting the Enterprise server sales at Dell. He is also a CTO Ambassador in the Office of the CTO at Dell Technologies.
Disclaimer: The views presented in this blog are personal views and may or may not reflect any of the contributors' employer's positions. Furthermore, the content is not reviewed, approved or published by any employer. No compensation has been provided for any part of this blog.