Earlier this month, IDC published their Q3 2020 WorldWide Server tracker data showing the top server vendors.  in this post, I'm going to dive in and take a closer look at how blade servers are performing including which vendor is leading the blade server market.   
WorldWide Server Market Overview
Before I dive into the details of how blade servers performed, I wanted to highlight the IDC WW Server tracker data for the 3rd quarter of 2020.  Focusing on server units shipped in all categories worldwide, Dell Technologies took the #1 spot with 16.9% market share.  At a close 2nd was HPE with 14.2% followed by Lenovo with 5.5% and Cisco at 2.0%.  This is where it gets interesting.  At only 2%, you would think that Cisco isn't a contender in the blade server market, but the market data for blade servers tells a different story.
Blade Server vs Rack Server Market Overview
Shifting the lens to examine what percentage blade server units made up the worldwide market in Q3 2020 we see the rankings shift dramatically:
Cisco: 24.5% (up 11 bps Y/Y)
Dell Technologies: 16.5% (up 13 bps Y/Y)
HPE: 38.8% (up 58 bps Y/Y)
Lenovo: 5.0% (up 97 bps Y/Y)
This data shows a couple of things: 1) the blade server market is growing (albeit slowly) when you look at the basis points gained year over year and 2) both HPE and Cisco have a large majority of the Q3 2020 blade server market share in units shipped.  In comparison, take a look at the worldwide market for rack servers:
Cisco: 4.3%
Dell Technologies: 27.7%
HPE: 21.8%
Lenovo: 6.6%.
HPE and Dell Technologies have a good balance between blade servers and rack servers but Cisco seems to have a majority of their server units in the blade server market.  Personally, I find this data very interesting, especially based upon the age of the Cisco UCS platform – hence the speculation of a new UCS platform on the horizon.  Now that we've looked into the blade market, let's see how that breaks down.
Blade Server Market Breakdown
in this final section, I thought it would be interesting to see how the blade server market data broke down.   Here are both the 2 CPU (2S) and 4 CPU (4S) market data, based on units shipped worldwide in Q3 2020: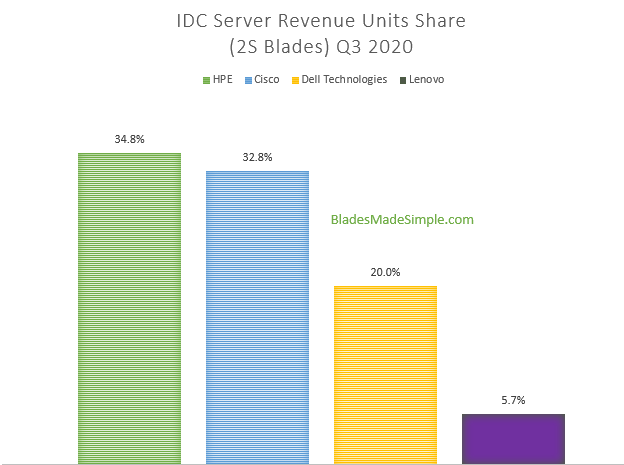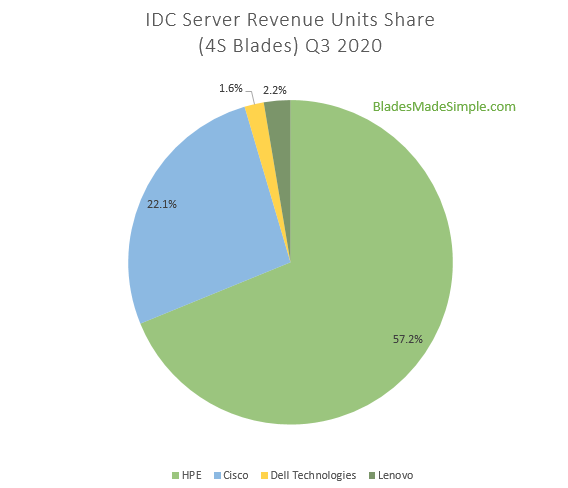 As you can see from the graphs above, HPE controls the 4 CPU blade server space.  This is interesting to me because when you compare the different blade servers available as I did back in August (click here) HPE's 4 processor blade server doesn't have anything that the other vendor blade servers don't.  From what I can see, HPE has the Q3 2020 market on 4 CPU rack servers as well as blade servers, so maybe they've just figured out how to capture those 4 CPU workloads.
Conclusion
As I wrap up, I think it's important to realize that Cisco, Dell and HPE are top contenders for your blade server workloads.  Of course, I'm biased toward Dell (#IWork4Dell) but I encourage you to gather all the facts before settling on a blade server vendor.  Engage your blade server sales teams from each vendor and ask them why they are different, what their future plans for the platforms are and make sure to ask them for a trial run whether its on your premise or someone else's (i.e. partner site, solution center.)  Thanks for reading and let me know if you have any ideas for future topics.
===========================================================

Kevin Houston is the founder and Editor-in-Chief of BladesMadeSimple.com.  He has over 20 years of experience in the x86 server marketplace.  Since 1997 Kevin has worked at several resellers in the Atlanta area, and has a vast array of competitive x86 server knowledge and certifications as well as an in-depth understanding of VMware and Citrix virtualization.  Kevin has worked at Dell EMC since August 2011 is a Principal Technologist supporting the New York Enterprise Region at Dell Technologies.  He is also a CTO Ambassador in the Office of the CTO at Dell Technologies.
Disclaimer: The views presented in this blog are personal views and may or may not reflect any of the contributors' employer's positions. Furthermore, the content is not reviewed, approved or published by any employer. No compensation has been provided for any part of this blog.