Since the hit movie AVATAR surpassed the $1 Billion Revenue mark this weekend I thought it would be interesting to post some information about how the movie was put together – especially since the hardware behind the magic was the HP BL2x220c.
According to an article from information-management.com, AVATAR was put together at a visual effects production house called Weta Digital located in Miramar, New Zealand.  Weta's datacenter sits in a 10,000 square foot facility however the film's computing core ran on 2,176 HP BL 2x220c Blade Servers.  This added up to over 40,000 processors and 104 terabytes of RAM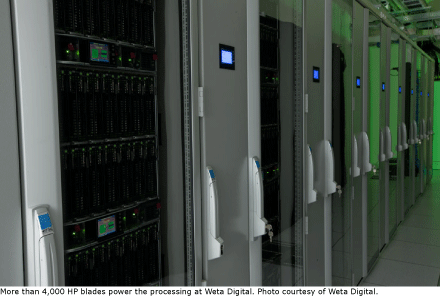 .  (Check out my post on the HP BL 2x220c blade server for details on this 2 in 1 server design by HP.)
The HP blades read and wrote data against 3 petabytes of fast fiber channel disk network area storage from BluArc and NetApp.  According to the article, all of the gear was  connected by multiple 10-gigabit network links. "We need to stack the gear closely to get the bandwidth we need for our visual effects, and, because the data flows are so great, the storage has to be local," says Paul Gunn, Weta's data center systems administrator.  
The article also highlights the fact that the datacenter uses water cooled racks to keep the racks and storage cooled.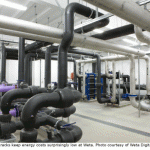 Suprisingly, the water cooled design, along with a cool local climate, allows Weta to run their datacenter for less cost than running air conditioning (all they pay for is the cost of running water.)  In fact, they recently won an energy excellence award for building a smaller footprint that came with 40% lower cooling cost.
Summary of Hardware Used for AVATAR:
34 racks – each with 4 HP BladeSystem Chassis, 32 servers (16 BL2x220c)
over 40,000 processors
104 TB RAM
Since I don't want to re-write the excellent article from information-management.com, I encourage you to click here to read the full article.