Technology analyst, Gartner, released their Magic Quadrant focused specifically on blade servers this week and the results were not very surprising.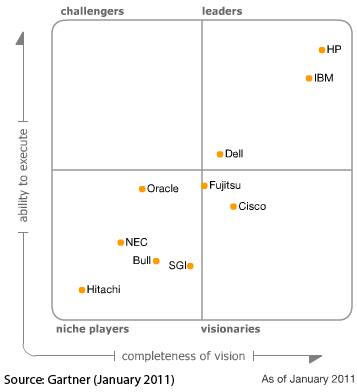 The Magic Quadrant is a tool Gartner uses to visually define a given market segment showcasing technology vendors who are leading the market in 4 areas:
leaders – vendor placement based on current market share
visionaries – vendors who, according to Gartner, "will either represent the discontinuous leading edge of the market or will be large vendors with a plan to drive market success through technology innovation and a narrower product portfolio."
challengers – defined by Gartner as, "vendors with a strong global presence that are focusing their blade strategies on a broad set of target clients, rather than on pure innovation."
niche players – defined by Gartner as vendors who focus  on a "market that addresses specialized "edge" niches of the broader server market well, and this will naturally drive innovation by small vendors that may only address certain geographies, verticalized markets (such as HPC or cloud infrastructure) or specific workload situations."
As we review the outcome of Gartner's Magic Quadrant, we can come to the conclusion that Gartner considers HP the market leader in blade servers with IBM and Dell following.  Gartner reflects that while IBM is close to HP in market share, HP has a better ability to execute. 
Gartner's evaluation criteria definition of "ability to execute" is rather lengthy, but covers 7 areas:
Product/Service: Core goods and services offered by the vendor that compete in/serve the defined market.
Overall Viability (Business Unit, Financial, Strategy, Organization): Viability includes an assessment of the overall organization's financial health, the financial and practical success of the business unit, and the likelihood that the individual business unit will continue investing in the product, will continue offering the product and will advance the state of the art within the organization's portfolio of products.
Sales Execution/Pricing: The vendor's capabilities in all pre-sales activities and the structure that supports them.
Market Responsiveness and Track Record: Ability to respond, change direction, be flexible and achieve competitive success as opportunities develop, competitors act, customer needs evolve and market dynamics change.
Marketing Execution: The clarity, quality, creativity and efficacy of programs designed to deliver the organization's message to influence the market, promote the brand and business, increase awareness of the products, and establish a positive identification with the product/brand and organization in the minds of buyers.
Customer Experience: Relationships, products and services/programs that enable clients to be successful with the products evaluated.
Operations: The ability of the organization to meet its goals and commitments.
Do I agree with Gartner on the placement of HP, IBM and Dell on their Magic Quadrant?  That's tough to answer.  There are no metrics defined like in a traditional graph, so without seeing the numbers behind Gartner's diagram it's hard to speculate on whether IBM should be closer or farther away from HP.  The only comment I have is regarding the public opinion of IBM's "Overall Viability (Business Unit, Financial, Strategy, Organization)".   I've met many individual users who believe that IBM's days in the server market are limited.  Now, of course, that is purely their opinion – based primarily on their move of allowing Lenovo to use their low-end x86 servers.  I would argue against this looking at a) IBM's blade chassis lifespan goes into 2014 and b) seeing IBM's innovation of the HX5 blade server.  However, my point is that there is uncertainty in the public eye which may or may not have affected Gartner's opinion on where to place IBM. 
As for Dell, I personally would have expected them higher up on the "ability to execute" portion of the chart.  Whereas they have a long way to go with their market share numbers, Dell does a phenomenal job marketing their blade server product.  My only thought as to why they aren't higher up is around Customer Exprience.  In the past, things like customer support has been a thorn in Dell's side.  While they may have resolved this internally, there may be customers who still have distaste for Dell which may or may not have affected Gartner's opinion.
Another observation from the Magic Quadrant is Cisco's placement as a "visionary".  According to the Magic Quadrant, Cisco has a more completeness of vision over Fujitsu.  Gartner's evaluation criteria definition of "completeness of vision" covers 8 areas:
Market Understanding: Ability of the vendor to understand buyers' wants and needs and to translate those into products and services.
Marketing Strategy: A clear, differentiated set of messages consistently communicated throughout the organization and externalized through the website, advertising, customer programs and positioning statements.
Sales Strategy: The strategy for selling products that uses the appropriate network of direct and indirect sales, marketing, service and communication affiliates that extend the scope and depth of market reach, skills, expertise, technologies, services and the customer base.
Offering (Product) Strategy: The vendor's approach to product development and delivery that emphasizes differentiation, functionality, methodology and feature sets as they map to current and future requirements.
Business Model: The soundness and logic of the vendor's underlying business proposition.
Vertical/Industry Strategy: The vendor's strategy to direct resources, skills and offerings to meet the specific needs of individual market segments, including vertical markets.
Innovation: Direct, related, complementary and synergistic layouts of resources, expertise or capital for investment, consolidation, defensive or pre-emptive purposes.
Geographic Strategy: The vendor's strategy to direct resources, skills and offerings to meet the specific needs of geograp
hies outside the "home" or native geography, either directly or through partners, channels and subsidiaries as appropriate for that geography and market.
Do I agree with Gartner on the placement of Cisco on their Magic Quadrant? Believe it or not, YES.  It's no surprise that Cisco isn't high up on the market share chart, but they are viciously attacking the marketplace leaning on their leadership in the networking market to displace legacy server environments.  Cisco's approach of centralized blade management is an innovative approach that will definitely give them an advantage in existing Cisco shops.  In regards to Gartner's opinion on where to place Cisco within the visionary section of their Magic Quadrant I can't really comment on because I don't know Fujitsu.  Gartner comments that Fujitsu's innovation lies within their Primergy BX900 Dynamic Cube server, which "will compete with Cisco's UCS and HP's BladeSystem Matrix" but more research (on my part) is needed before I can comment.
Overall, I believe the Gartner Magic Quadrant is a nice visual tool, but without seeing the data supporting the placement of the vendors on the chart, I have to consider the information more of an opinion than fact.  Regardless, it's interesting data and usually sparks some good conversations.
 To read the full Gartner report, please visit:
http://www.gartner.com/technology/media-products/reprints/hp/vol3/article7/article7.html
windermere real estate
how to install a ceiling fan
too much fiber
bank of india
customer service representative