Updated 1/27/2011
Dell quietly announced the addition of a 10 Gigabit Ethernet (10GbE) switch module, known as the M8428-k.  This blade module advertises 600 ns low-latency, wire-speed,  10GbE performance, Fibre Channel over Ethernet (FCoE) switching, and low-latency 8 Gb Fibre Channel (FC) switching and connectivity.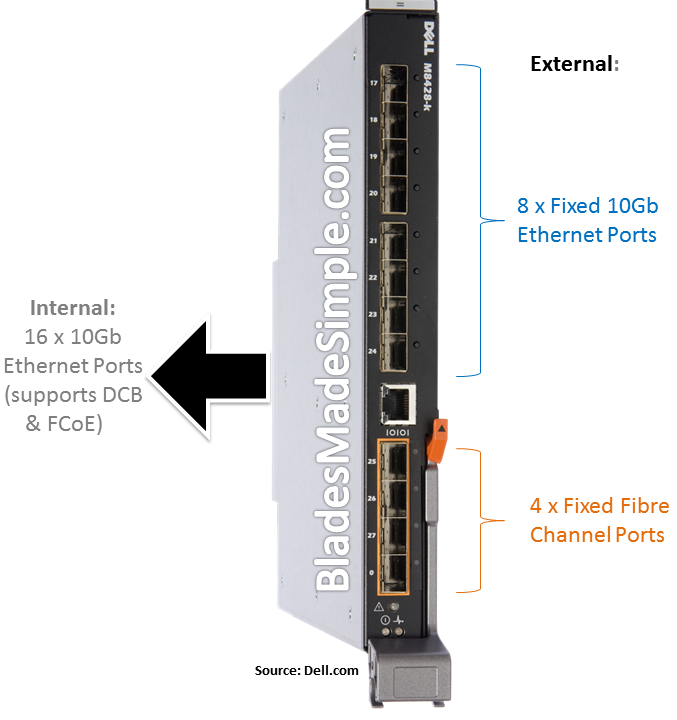 In this era of virtualization in the datacenter, CPU and RAM capabilities on servers are no longer the bottleneck, but instead it is the servers' I/O.  Technology vendors are now offering 10Gb Ethernet options which helps to reduce the traditional Ethernet I/O bottleneck.  In fact, many vendors have begun to offer a convergence of networking allowing both Ethernet and Storage commands to travel down a single converged pipe.  These devices, known as converged network switches have been around since Cisco first introduced their Nexus product a couple of years ago.  The design of the original converged switch took a single 10Gb cable to a Top of Rack (ToR) switch in which the Ethernet traffic and the fibre storage traffic was separated.
Over the past 9 months we've seen a surge of a new generation of converged switches, that does not require a ToR switch, but instead splits the Ethernet and Fibre traffic out of a single module within a blade chassis.  The advantages of this approach are: it frees up blade server mezzanine (expansion card) slots and it also requires fewer modules within a blade chassis therefore freeing up space for additional future fabrics.  In late December 2010, Dell announced their next generation converged module, called the M8428-k Converged 10GbE Switch Module.  The M8428-k has 28 ports: 16 internal and 12 external.  The 12 external ports are made up of:
*8 ports of 10 Gigabit Ethernet (GbE) speed and Data Center Bridging (DCB). 
*4 Fibre Channel ports: that support 2, 4, and 8 Gbps full duplex
The 16 internal ports (one per Dell M1000e Server bay) supports DCB and Fibre Channel over Ethernet (FCoE).  One last point to make, the module comes with all ports activated.  This is an advantage over some competitors that offer upgrade licenses to activate additional ports.
UPDATE – Currently the only compatible blade server mezzanine Converged Network Adapter (CNA) is the BR1741M-k.  This card provides FCoE connectivity from blade server to the M8428-k Converged Switch Module.  You can read more about this card on this Dell site.
For more information ont he Dell M8428-k Converged 10GbE Switch Module, visit Dell.com.
nexium side effects
iphone 4s features
driving test game
natural hair blogs
does p90x work