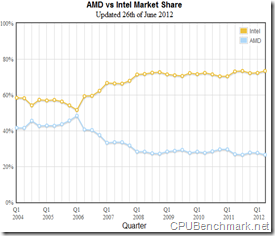 It is no surprise that AMD is losing the battle of the x86 server market in the datacenter, but I had no idea their market share was as low as it appears.  Even in the blade server space, you may notice that only a couple of server manufacturers offer AMD now.  A recent study of AMD vs Intel Market Share from CPUBenchmark.net shows Intel's market share around 73% and AMD around 27%.  Granted, the results are based on thousands of PerformanceTest benchmark results updated daily, so take the information as it is (not official.)  However, when you look at benchmarks (also from CPUBenchmark.net) you see that Intel's dual socket E5-2687W CPU trumps AMD's four socket Opteron 6272 by 737 points on the CPU Mark scale.  If you look at the chart, you'll also notice Intel's [Dual CPU] Intel Xeon E5-2450 @ 2.10GHz has a higher CPU Mark Scale than the [Dual CPU] Intel Xeon E5-2658 @ 2.10GHz, the [Dual CPU] Intel Xeon E5-2640 @ 2.50GHz and the [Quad CPU] Intel Xeon E7- 4807 @ 1.87GHz.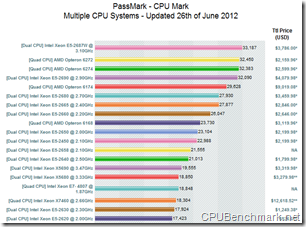 While CPUBenchmark.net's tool rates the CPU's performance, it does not take into account the other features (memory, RAS, etc.), however it does ask the question – is this the end of AMD (in the server space)? 
Before I go further, I want to disclosure that I have not seen any information on the future of AMD's products in the server / blade server space.  That out of the way, the plan from this point forward is to give you the facts, and let you come to your own conclusion on the fate of AMD. 
AMD Has a Roadmap
AMD has a public roadmap, as showcased at their Feb 1, 2012 Analyst Day Press Event, which states there should be an update the AMD CPU server product line sometime in 2012-2013, code name "Abu Dhabi"(with the core architecture code named"Piledriver".)   While AMD has (and will have) more cores than Intel, it's yet to be seen if that will equate to better performance.
AMD Financials Do Not Look Good
June 23 of 2006, AMD's stock closed at $25.14 per share.  June 24, 2011, AMD's stock closed at $6.90 per share.  June 26, 2012, AMD's stock closed at $5.41 per share.  AMD revenues in Q1 2012 reported a 2% loss year-over-year.  I'm not a financial analyst, but the numbers do not favor a positive near term future.  That being said, SeekingAlpha.com recently wrote an article that states the negative financial reports by AMD were one time losses based on some investments.  The writer goes on to state that AMD shares are undervalued and will go up. 
Will the SeaMicro Acquisition Change the Game?
AMD's acquisition of SeaMicro (which mostly used Intel CPU architectures) will soon lead to a new AMD server, code named "Seoul".  It's rumored that the Seoul CPU will be based on the Piledriver architecture and offer up to 512 cores per 10U (or 2,048 cores in a rack.)  With this new server-on-a-card design and a new core architecture, will we see a surge of AMD marketing and attempts to regain market share?  Customers who invested in SeaMicro in the past probably have Intel in their environment, so will they be willing to shift to AMD?  Will AMD's offering outweigh existing high CPU core solutions on the market today?  It's difficult to tell, but the next 12 months should be interesting.  I believe we are at the point of either AMD will catch up to Intel driving demand in the market, or they'll have to examine their presence in the x86 server market.
What do you think?  Am I on track, or full of crap – let me know in the comments below or email me at bladesmadesimple AT gmail.com
Kevin Houston is the founder and Editor-in-Chief of BladesMadeSimple.com.  He has over 15 years of experience in the x86 server marketplace.  Since 1997 Kevin has worked at several resellers in the Atlanta area, and has a vast array of competitive x86 server knowledge and certifications as well as an in-depth understanding of VMware and Citrix virtualization.  Kevin works for Dell as a Server Specialist covering the Global 500 East market.