One of the first questions I've received when I started discussing the new Intel E5 2600 v2 CPU is "will it work with my existing blade server VMware clusters?"  The sales answer is YES, of course.  The real answer is, it depends. 
If you aren't sure what I'm talking about, let me simplify it.  To ensure system stability during migration with VMware vMotion, VirtualCenter and vCenter Server require the source and target CPUs to be compatible.  To save you the hassle of having to find the compatibility matrix, here's what you'll need to know about VMware vSphere compatibility with the Intel Xeon E5 2600 v2 (aka Ivy Bridge) cpu:
vCenter Compatibility
Enhanced vMotion Compatibility Cluster Baseline

vCenter Server Release

"Nehalem"

"Westmere"

"Sandy Bridge"

"Ivy Bridge"

4.0

Yes

No

No

No

4.0 U1
and later updates

Yes

Yes

No

No

Server 4.1

Yes

Yes

No

No

5.0

Yes

Yes

Yes

No

5.1

Yes

Yes

Yes

Yes
Reference:  VMware KB 1003212 – "Enhanced vMotion Compatibility (EVC) processor support
vSphere Compatibility:
vSphere ESXi 5.0 Update 2
vSphere ESXi 5.1 Update 1
vSphere ESXi 5.5
Reference: VMware Compatibility Guide (search on Intel Xeon E5-2600-v2 Series)
[Note – don't be discouraged by the lack of server vendors shown when you search.  The Intel E5-2600 v2 CPU isn't shipping for a few more weeks.  Within the next few weeks, all of your favorite 2 socket blade servers will be listed.]
In case you were wondering what versions of vCenter Server support what versions of vSphere, here's a quick list: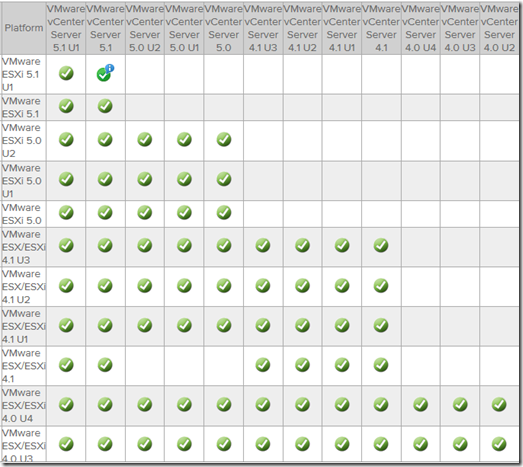 Reference: VMware Product Interoperability Matrixes
Kevin Houston is the founder and Editor-in-Chief of BladesMadeSimple.com. He has over 15 years of experience in the x86 server marketplace. Since 1997 Kevin has worked at several resellers in the Atlanta area, and has a vast array of competitive x86 server knowledge and certifications as well as an in-depth understanding of VMware and Citrix virtualization. Kevin works for Dell as a Server Specialist covering the Global 500 market.
Disclaimer: The views presented in this blog are personal views and may or may not reflect any of the contributors' employer's positions. Furthermore, the content is not reviewed, approved or published by any employer