Today at Intel Developer Forum in San Francisco, Intel officially announced the next version of the Xeon Family – the E5 2600 v2, aka "Ivy Bridge".
In case you aren't familiar with how Intel releases new products, let me explain.  Intel uses a "Tick / Tock" product development cycle where they make CPUs smaller (like a tick) then they come out with a new architecture (like an explosion – or "tock").  As you can see from the chart below, the E5 2600 v2 falls under the "tick" phase.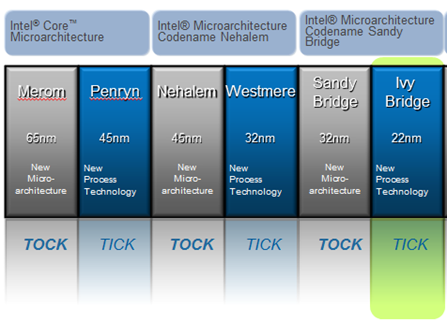 This new addition to the Intel family will offer:
Up to 50% more performance
Up to 12 cores and 30 MB last level cache
Up to 45% energy efficiency gain
22nm process technology
Advanced security features
Intel Data Protection Technology
The architecture of the existing E5 2600 product family (memory, PCIe, etc) remains the same but you'll see significant performance with the additional cores and the smaller 22nm design.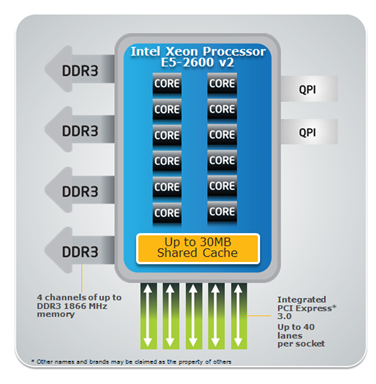 As far as the clock speeds go, that will depend upon the OEM you choose but the Intel E5 v2 product family spec sheet shows a top clock speed of 3.5 GHz.  I recommend you check with the vendor you use since each vendor may not carry the top speeds.  One good thing about the E5 v2 family that I found is that the Intel Xeon E5 2600 v2 is a "drop-in" CPU so it should work within your existing 2 socket blade servers running the current Intel Xeon E5 2600 (aka "Sandy Bridge" CPUs) provided you have an updated BIOS. 
These CPUs are expected to begin shipping by the end of the month. 
To learn more about the Intel® Xeon® processor E5-2600 v2 product family, visit
www.intel.com/products/server/processor/xeonE5/index.htm
Kevin Houston is the founder and Editor-in-Chief of BladesMadeSimple.com. He has over 15 years of experience in the x86 server marketplace. Since 1997 Kevin has worked at several resellers in the Atlanta area, and has a vast array of competitive x86 server knowledge and certifications as well as an in-depth understanding of VMware and Citrix virtualization. Kevin works for Dell as a Server Specialist covering the Global 500 market.
Disclaimer: The views presented in this blog are personal views and may or may not reflect any of the contributors' employer's positions. Furthermore, the content is not reviewed, approved or published by any employer