IDC published their Q3 2015 findings last week, and the results were overall positive.  In year over year revenues, the worldwide server market saw revenues increase of 5.1%, or $13.4 billion, the sixth consecutive quarter of growth while shipments grew 4.5%, or 2.49 million units.  Specific to blade servers, IDC reported Dell's blade server revenue grew faster than that of any of the top 5 vendors at 34.8%, however Cisco remained at the #2 blade server market share holder behind HP.
Below is a chart comparing Q3 2015 to Q3 2014 market share (all servers).  The IDC report didn't have any additional details on the blade server market, but it does have interesting facts about the rapid growth of rack servers.  Read the full IDC report at http://www.idc.com/getdoc.jsp?containerId=prUS40674215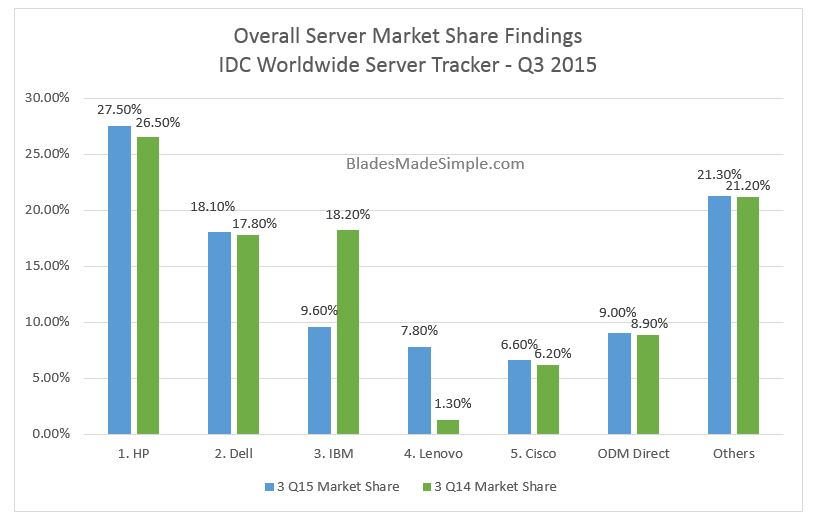 Kevin Houston is the founder and Editor-in-Chief of BladesMadeSimple.com.  He has over 18 years of experience in the x86 server marketplace.  Since 1997 Kevin has worked at several resellers in the Atlanta area, and has a vast array of competitive x86 server knowledge and certifications as well as an in-depth understanding of VMware and Citrix virtualization.  Kevin has worked at Dell as a Server Sales Engineer covering the Global Enterprise market since August 2011.
Disclaimer: The views presented in this blog are personal views and may or may not reflect any of the contributors' employer's positions. Furthermore, the content is not reviewed, approved or published by any employer.