As another year has ended, I have to take the time to thank you.  This blog was created for my own use, to be able to access blade information at any time; but it grew into something bigger.  For each of you that use this site, I give a sincere thank you.  This site is a personal site that I've maintained since Fall of 2009 and I get ZERO money to run it.  No advertising dollars or anything.  It's a hobby, so your participation is greatly appreciated.  That said, I thought for my first blog post of 2016, I'd provide you with some insight into the numbers.  So here we go.
# of views in 2015: 152,150 (note: had 2 months where the stats were not working, so I estimate this # was actually closer to 175,000)
highest # of views: 247,313 (2012)
highest monthly view in 2015: 15,300 (March, 2015)
top 3 blog posts for 2015:

top 3 blog posts ALL TIME:

top search terms in 2015:


| | |
| --- | --- |
| blade servers vs rack servers | 38 |
| network daughter card | 29 |
| dell vrtx | 25 |

top search terms ALL TIME:


| | |
| --- | --- |
| blade server | 5,377 |
| blades made simple | 2,166 |
| blade servers | 1,843 |

Countries visiting bladesmadesimple.com in 2015: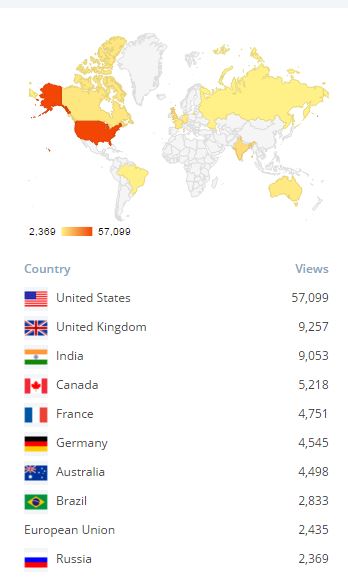 If you have any comments or thoughts, please let me know. Thanks for your continued support.

Kevin Houston is the founder and Editor-in-Chief of BladesMadeSimple.com.  He has over 18 years of experience in the x86 server marketplace.  Since 1997 Kevin has worked at several resellers in the Atlanta area, and has a vast array of competitive x86 server knowledge and certifications as well as an in-depth understanding of VMware and Citrix virtualization.  Kevin has worked at Dell as a Server Sales Engineer covering the Global Enterprise market since August 2011.
Disclaimer: The views presented in this blog are personal views and may or may not reflect any of the contributors' employer's positions. Furthermore, the content is not reviewed, approved or published by any employer.