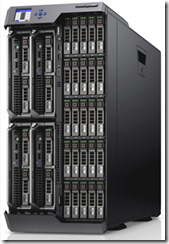 What happens when you merge rack servers with blade servers? You get the newly announced Dell PowerEdge VRTX. Three years in the making, the Dell PowerEdge VRTX (pronounced "ver-tex") is advertised as a revolutionary, easy-to-manage office-optimized data center that converges servers, storage and networking into a compact package. In the following post, I'll give you a deep-dive look into the Dell PowerEdge VRTX solution.
The first thing you might say when you look at the PowerEdge VRTX is "this is just Dell's entry into a small blade chassis." While that may appear to be the case, the Dell PowerEdge VRTX offers something that no other blade server solution offers (without eating up blade server slots) – the ability to use regular, rack server PCIe cards. Yes, you read that right. Dell has found a way to combine the density of blade servers with the flexibility of rack server I/O options with PowerEdge VRTX. This means you have the flexibility to use less expensive PCIe cards giving you a plethora of choices all while being managed through shared chassis management. So enough small talk, let's dig into what's under the covers.
Chassis Overview
The PowerEdge VRTX can hold up to four server nodes and up to 25 x 2.5" hot-swap drives offering up to 3TB of RAM, 64 processing cores and 48TB of storage.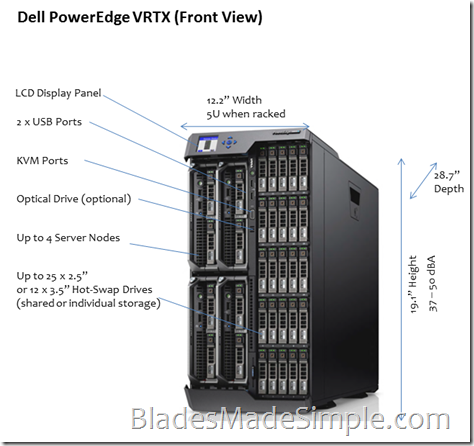 In addition to the 2 – 4 ports of on board networking, the PowerEdge VRTX also offers I/O expansion via 8 shared PCIe slots (3 Full-Height, 5 Low-Profile).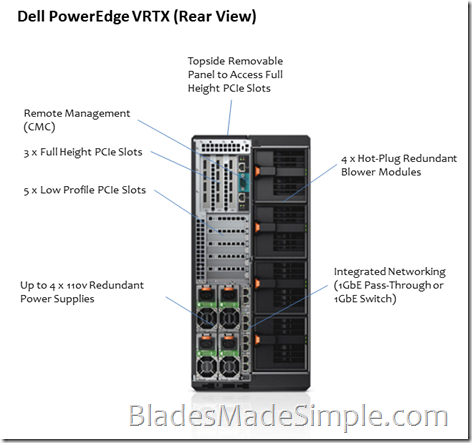 Unlike what you might expect with the Dell PowerEdge M1000e blade chassis, the PowerEdge VRTX chassis management controller, or CMC, resides inside of the chassis in the form of installed cards (shown with redundant card installed.)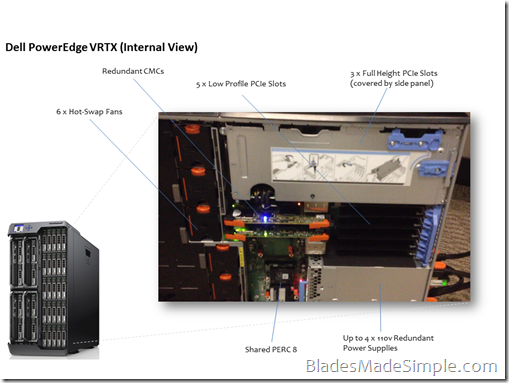 Here's an actual photo of the Chassis Management Controller (CMC):
The PowerEdge VRTX is available as a tower model as shown above, but it can also be racked (5U in size) with the addition of the optional rack mount kit.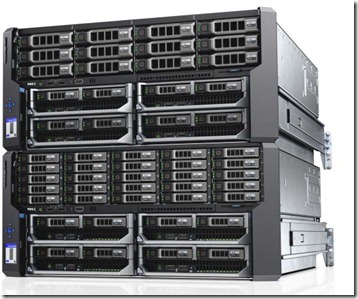 Server Node Overview

The server nodes used with the PowerEdge VRTX are modeled from the PowerEdge M520 and M620 blade servers offering you the following choices:
If you noticed there was no mention about the mezzanine cards that you typically find in Dell blade servers, there is a reason for that. They are not used for the traditional I/O expansion via external fabrics. Instead they are used for connecting to the PCIe infrastructure. More on this below.
Technical Overview
Now for the fun stuff. What's under the covers? How does everything work. Here's the cheat sheet of all the components within the PowerEdge VRTX: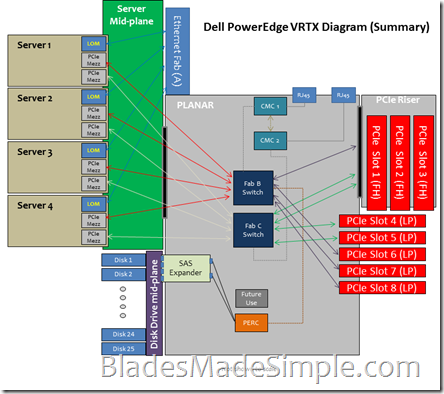 PCIe Infrastructure Overview
After you spend a few minutes studying the diagram, one of the things you might notice is that there is only one I/O fabric – Fabric A. I'm going to review Fabric A shortly, but first, focus on the mezzanine card slots on the server nodes. Instead of using traditional I/O modules for Fabric B or Fabric C, Dell has designed the PowerEdge VRTX to use PCIe slots. This is done via two PCIe switches – one for Fabric B and one for Fabric C. Each PCIe switch ties into one of the two mezzanine cards on the server nodes as shown in the diagram below.
The Fabric B PCIe Switch provides connectivity to the following:
PCIe slot 3
PCIe slot 6
PCIe slot 7
PCIe Slot 8
Shared PowerEdge RAID Controller (SPERC)
The Fabric C PCIe Switch provides connectivity to the following:
PCIe slot 1
PCIe slot 2
PCIe slot 4
PCIe slot 5
The PCIe slots are non-shared and thereby dedicated to one server node within the PowerEdge VRTX system. The PCIe slots can be re-assigned to a different server through the CMC as needed. Each slot is capable of being exclusively assigned to any blade server, although it does require powering the server node off. I've got a screenshot of this later in the management section.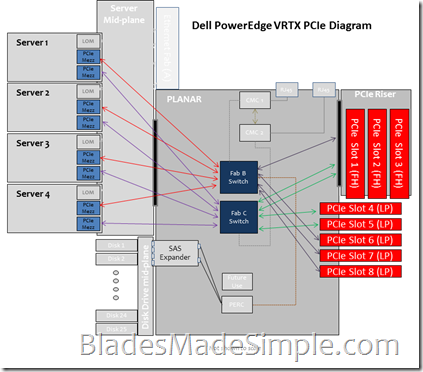 Here's a cheat sheet for the PCIe Slots: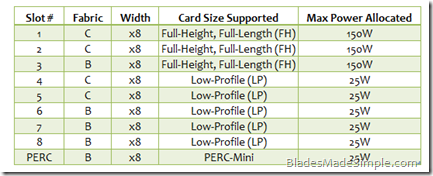 The following PCIe cards are planned to be supported at product availability:
AMD FirePro W7000
6Gb/s SAS HBA (low profile and full height)
Broadcom Dual Port 1Gb (low profile and full height)
Intel Dual Port 1Gb (low profile and full height)
Intel Dual Port 10Gb Base-T (low profile and full height)
Intel Dual Port 10Gb Base-SFP+ (low profile and full height)
Intel Quad Port 1Gb (low profile and full height)
Broadcom Dual Port 10Gb Base-SFP+ (low profile and full height)
Fabric A Overview
As you take a look closer at Fabric A, you notice that the same fundamental principle applies as in the Dell PowerEdge M series blade servers – the onboard networking, or LOM (LAN On Motherboard), directly maps to Fabric A. The difference, though, with PowerEdge VRTX is that there is a single fabric A. Why only one? The answer lies within the target audience of this solution – remote office / branch office. Throughout the 7,700 customer conversations Dell had during the planning phase for PowerEdge 12th generation servers, it was conveyed that remote and branch offices don't typically use or need redundant top-of-rack switches, so to reduce costs, PowerEdge VRTX has a single network fabric. At product availability, there will be two options – a Pass-Though Module and an Ethernet Switch Module.
A pass-through module are often less expensive than Ethernet switches, but they require a 1:1 connection. If you don't plug-in a RJ-45 Ethernet Cable into the corresponding external port, the blade server network port will not be active. There also is no communication within the server nodes since the pass-through module is an extension of the NIC port as shown above. A final thing to note, is that when you use the PowerEdge M520 server node, which comes with 4 x 1GbE ports, only 2 of the 4 ports will be capable of being lit up with a pass-through module. Here is the diagram for the PowerEdge VRTX Pass-Through Module: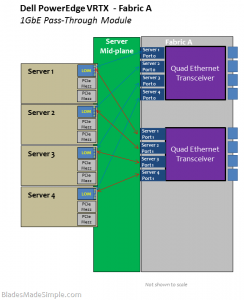 In comparison, an Ethernet switch module not only reduces the amount of cabling required externally (as little as 1 external Ethernet cable could be used) it also allows for intra-chassis communication – a key performance advantage for virtualization environments. As you can see in the diagram, using an Ethernet switch module allows for all ports of the LAN on Motherboard to be used including the 4 x 1GbE ports found on the PowerEdge M520 server node. Here is the diagram for the PowerEdge VRTX Ethernet Switch Module: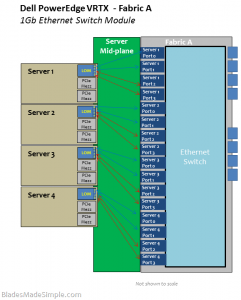 Storage Overview
One of the key advantages that PowerEdge VRTX offers is integrated, shareable storage. PowerEdge VRTX supports either 12 x 3.5" hot-swap drives or 25 x 2.5" hot-swap drives (determined at purchase). The drives are supported by a shared PowerEdge RAID Controller, or SPERC.
The shared PERC8 is connected to each server's mezzanine card through the PCIe switch and feeds two x4 mini-SAS connectors to the storage subsystem.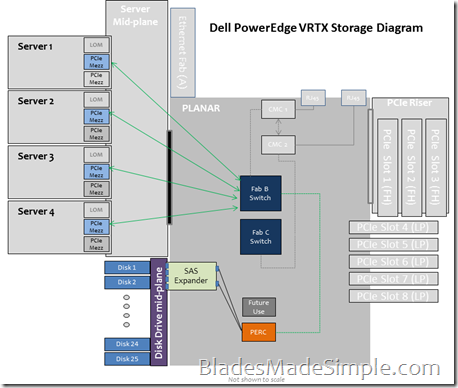 The chassis management controller, or CMC, allows for the user to create virtual disks which can be assigned to a single server node, or across multiple server nodes. Since the storage is shared, each server node will see the storage as its own singular storage pool. The Shared PERC8 will offer RAID 0, RAID 1, RAID 5, RAID 6, RAID 10, RAID 50 and RAID 60 as well as options like hot-spare.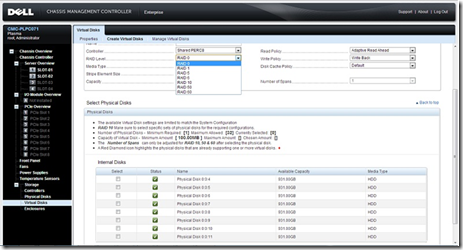 The drives that are planned to be available at launch include the following:
500GB 7.2k NLSAS 2.5" HDD
1TB 7.2k NLSAS 2.5" HDD
600GB 10k SAS 2.5"
900GB 10k SAS 2.5"
1.2TB 10k NLSAS 2.5" HDD
146GB 15k SAS 2.5"
300GB 15k SAS 2.5"
1TB 7.2k NLSAS 3.5"
2TB 7.2k NLSAS 3.5"
3TB 7.2k NLSAS 3.5"
300GB 15k SAS 3.5"
450GB 15k SAS 3.5"
600GB 15k SAS 3.5"
200GB SAS SSD 2.5"
400GB SAS SSD 2.5"
4TB 7.2k NLSAS 3.5"
PowerEdge VRTX Management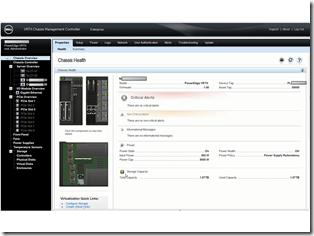 The last section to review is management of PowerEdge VRTX. As stated above, the PowerEdge VRTX uses a chassis management controller, or CMC, to manage the system. This includes management of server nodes, the power, cooling and the storage and PCIe subsystems. It is important to note, that the PowerEdge VRTX CMC is not the same CMC as you might find in the PowerEdge M1000e. The firmware is different and provides additional functionality not found within the M1000e, but if you are familiar with the CMC of the PowerEdge M1000e, the PowerEdge VRTX CMC should look familiar.
The PowerEdge VRTX CMC allows you to manage the networking as well: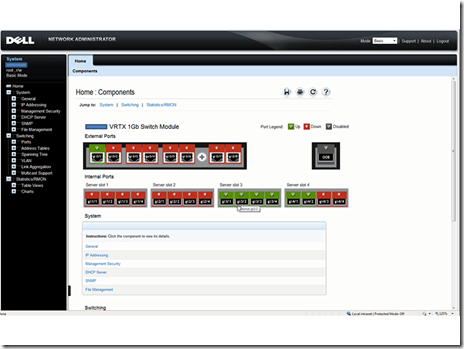 Here's a look at what the PCIe management looks like: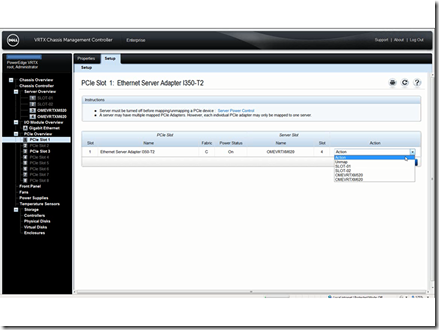 As with the M1000e CMC, the VRTX CMC allows for management of up to 9 PowerEdge VRTX chassis – anywhere on your network.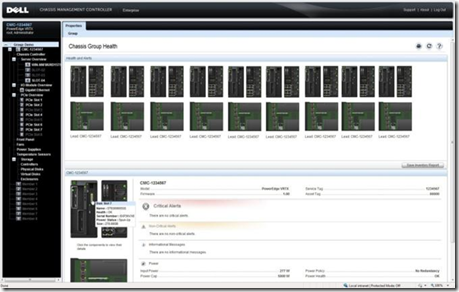 Additionally, with the addition of the free Dell Open Manage Essentials software, users can visually pin point the locations of the PowerEdge VRTX systems (known as GeoView).

CMC Licensing
According to my sources, the PowerEdge VRTX will come standard with an Enterprise license for the CMC. However, there may be customers who won't need the advantages the Enterprise license offers, so for those customers, an "Express" offering is being planned.
Express license does not include:
1-to-many configuration
1-to-many server firmware update
Remote syslog
Enclosure level power capping
OpenManage Power Center integration
Server cloning
Stacking multi-chassis management
LDAP/Active Directory
Enclosure level backup & restore
Ipsec (future)
FlexAddress
PK Authentication (for SSH)
Single Sign-On (for LDAP)
Two-Factor Authentication (with smart cards)
Repository Manager integration (future)
Profile-based configuration (future)
DPSE
Dynamic PCI slot assignment
Virtual Media File share
OME VRTX GeoView enablement
Both the Enterprise and Express versions include the following:
Web GUI
Racadm CLI
Health monitoring
Serial access
Power control
Cooling control
Real-time power monitoring
Historical power counters/graphing
Enclosure level inventory
Password level security (local users)
Role-based authority
Email alerting
Location information
SNMP alerting V1
SNMP alerting V2C, V3 (future)
Telnet/SSH access
Hardware log
CMC log
SSL encryption
iDRAC/OMSA launchpoints
Local SSO
WSMAN
LCD & associated deployment wizards
NTP
Device summary pages
Roll-up health status
Configurable network ports
IP blocking (login/ranges)
PERC configuration
Dynamic DNS
IPv6
VLAN tagging
Soft licensing upsell
Enclosure level auto discover (future)
Enclosure level firmware rollback
iDRAC/OMSA launchpoints
Local SSO
WSMAN
Summary
PowerEdge VRTX is a lot different from what I speculated back in April of 2011 (https://bladesmadesimple.com/2011/04/dell-to-introduce-a-new-mini-chassis-for-blades/). It offers remote and branch offices the flexibility of a data center in a box. It includes high-performing servers, integrated storage, networking and management. Since it is a modular design, you can easily scale with your remote office needs. PowerEdge VRTX is currently scheduled to available for shipping June 25, 2013 in the United States and globally shortly after.
Additional Information Links
(Updated 6/6/2013) For more information, here are some additional links to review:
Kevin Houston is the founder and Editor-in-Chief of BladesMadeSimple.com. He has over 15 years of experience in the x86 server marketplace. Since 1997 Kevin has worked at several resellers in the Atlanta area, and has a vast array of competitive x86 server knowledge and certifications as well as an in-depth understanding of VMware and Citrix virtualization. Kevin works for Dell as a Server Sales Engineer covering the Global Enterprise market.
Disclaimer: The views presented in this blog are personal views and may or may not reflect any of the contributors' employer's positions. Furthermore, the content is not reviewed, approved or published by any employer.