Recently I've had to do a lot of "why Dell" presentations and it occurred to me there are a few things about Dell blade servers that many people, including Dell customers, may not know about.
#5 – Manage Dell Blades Servers with HP Software
Now, don't get too excited. Although everyone advertises, "open standards," no vendor has created a method to maintain all blade servers from a blade management software. With that said, Dell does have a tool to enable users of HP's Operations Manager to work with Dell blade servers. Dell Smart Plug-in (SPI) for HP Operations Manager (HPOM) provides features for monitoring Dell Server, Workstation, Chassis, Storage and Networking infrastructures in environments managed by HP Operations Manager.
This protects a customer's investment in HP Operations Manager and provides a holistic view of Dell's infrastructure. Features of this plug-in includes:
classification & monitoring of Dell devices from within the HPOM console
correlation of Dell modular servers, EQL blade storage arrays and blade I/O switch modules to the Dell chassis
event monitoring
event auto-correlation of current Dell blade and rack servers
ability to launch specific Dell element (i.e. iDRAC, OpenManage Essentials)
For more information on this plug-in, visit Dell TechCenter.
#4 – Achieve 1.4M IOPs with a Single Blade Server
In previous conversations, I've heard a typical SAS-based SSD provides around 10,000 IOPs, so when I heard about Dell's ability to provide 1,400,000 IOs per second in a single blade server, I thought this must be marketing fluff – but it's not. Back in their 12th generation of blade servers, Dell introduced the "Express Flash" – a hot-plug SSD that didn't connect to the SAS backplane, but instead to the PCIe infrastructure, which directly connected to the Intel Xeon E5-2600 CPU.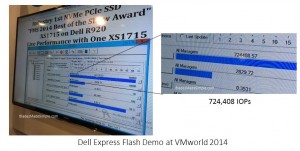 The original generation provided a drive that could generate about 140,000 IOPs, but when Dell came out with the 13th generation servers, they began using NVMe technology which boosted the drive performance to 720,000. To prove that this IOP number is real, I took

a picture of the Dell Express Flash demonstrated at VMworld 2014 running at 724,408 IOPs – from a single drive. The really cool thing to note is that the Dell PowerEdge M630 blade servers have the option to run 2 of the Express Flash drives therefore you can get 1.4M IOPs. Two things to note with the Express Flash drives on blade servers:
they only use software RAID – since they don't connect to the SAS backplane, hardware RAID isn't and option
you have to choose to use Express Flash drives at point of sale – if you order SAS drives then decide you want Express Flash drives, there's not an option to convert
Current drive size options for the Express Flash on the Dell PowerEdge M630 include: 400GB, 800GB, 1.6TB and 3.2TB.
#3 – Use the iDRAC to Monitor Server Performance
The latest generation of Dell servers updated the on-board management engine, also known as iDRAC (integrated Dell Remote Access Controller.) This update added a lot of goodies, but the one that is most interesting is the ability to monitor server performance without any agents or other software. Traditionally, users rely on PerfMon or other O/S based monitoring tools to understand why a system is behaving the way it is. Now, with iDRAC 8,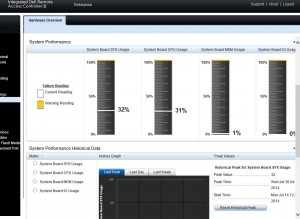 found on the 13G Dell blade servers (FC430, FC630, FC830 and M830) users can view the CPU, Memory and I/O usage in a visual representation without affecting the workload. In addition, users can review historical data and even set alerts like "send email if memory utilization exceeds 75%."
NOTE: If you want more technical details on how this works, I'd recommend you check out the online iDRAC 8 Users Guide.
Of course, there is a catch – in order to take advantage of this feature, you must of the Enterprise license of iDRAC. I previously wrote up a comparison page to help identify the different iDRAC license editions, so if you are interested in learning what else the Enterprise license gets you, go here.
#2 – Swap Them Between the M1000e and VRTX Chassis
If you were around when the Dell PowerEdge VRTX launched, you may recall Dell did one thing wrong – they didn't allow for interoperability between chassis. Fortunately, this was fixed a few months after launch, but many people still aren't aware they can pull a blade server out of the M1000e and place it into the PowerEdge VRTX chassis. The one catch is that the blade servers within the VRTX don't use mezzanine cards – they use PCIe cards, therefore in order to use a blade server FROM the M1000e TO the VRTX you have to remove any mezzanine cards and replace it with a PCIe Mezzanine Adapter (2 pack – $199 list.)
#1 – Automatically Configure and Provision Blade Servers When They Are Added
The Dell PowerEdge M1000e chassis management controller (CMC) will let you take a complete copy of a blade server hardware configuration and replicate it to another server. The hardware configuration captures the 500+ settings of an individual server's components, such as BIOS, NIC, iDRAC, RAID and Lifecycle Controller. Once the configuration is captured, it is saved within the CMC and used for many different activities including quick deploy where the profile is pre-assigned to a server slot and applied once a server is inserted. Alternatively, the captured profiles can be used for updating multiple servers during troubleshooting to correct any existing configuration errors.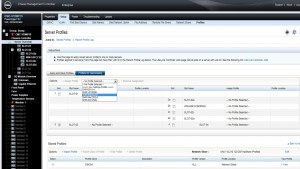 There was a nice Principled Technologies report written up about this feature in July 2013, so the idea of "server profiles" isn't new. What's new, and what most people may not realize, is that these server profiles are no longer bound to an individual chassis – they can be shared between M1000e chassis. The key is that instead of just using the onboard chassis storage for storing profiles, users now have the option to save to a "network share." This allows any blade chassis on the network (anywhere in the world) to access a saved profile.
If there are other things that you feel that I missed, please feel free to share it in the comments below, or email me at KEVIN at bladesmadesimple.com. Thanks for reading!

Kevin Houston is the founder and Editor-in-Chief of BladesMadeSimple.com. He has over 18 years of experience in the x86 server marketplace. Since 1997 Kevin has worked at several resellers in the Atlanta area, and has a vast array of competitive x86 server knowledge and certifications as well as an in-depth understanding of VMware and Citrix virtualization. Kevin has worked at Dell as a Server Sales Engineer covering the Global Enterprise market since August 2011.
Disclaimer: The views presented in this blog are personal views and may or may not reflect any of the contributors' employer's positions. Furthermore, the content is not reviewed, approved or published by any employer.