As I speak with customers about the Dell PowerEdge VRTX, one of the limits that often gets brought up is the fact that it"only" has 25 x 2.5″ or 12 x 3.5″ drive bays.  That is no longer the case.  In a quiet release in December, Dell began offering an extra option for VRTX which allows the chassis to connect with up to 2 x external MD storage arrays and share the storage with all servers.
How It Works
If you've examined the VRTX, you'll notice there's no external ports for the onboard Shared PERC (SPERC) to expand, so to give the VRTX the ability to expand, Dell engineers created a Shared PERC designed to go into the PCIe slots within the VRTX chassis.  Since the cards are the same "Shared PERCs" as the ones that are internal to VRTX, they are seen by all the servers within the VRTX chassis.  This is a big deal because you can now have two shared storage arrays – one with VRTX built-in disk storage and one with the MD external storage.  NOTE: If you don't recall how this works, I urge you to review the storage section of my post, "A Detailed Look at VRTX."  
How Much Storage Can Be Added?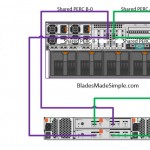 The VRTX JBOD Expansion is limited to 2 x Dell MD1200 (12 x 3.5″ model) or Dell MD1220 (24 x 2.5″ model.)
For a single MD12x0 expansion, here are the maximums:
MD1200 (12  x 3.5″ drive bays) with NLSAS = 8TB x 12 = 96TB
MD1200 with Read Intensive SSD = 3.84TB x 12 = 46TB
MD1220 (24 x 2.5″drive bays) with NLSAS = 2TB x 24 = 48TB
MD1220 with Read Intensive SSD = 3.84TB x 24 = 92TB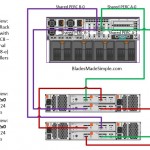 For a 2 x  MD12x0 expansions, you can either double the numbers above, or combine them in the case of using 1 x MD1200 and 1 x MD1220.
The images on the left show how the SPERCe  (-e for "external") connect from the PCIe slots to the MD arrays in a fault tolerant design.  You can order with a single SPERCe, but why would you?
What's Needed?
To start with, you'll need to order the "JBOD Expansion Kit" which is available as a single SPERCe or dual SPERCe.  The expansion kit can be ordered at the Point of Sale, or if you already have a VRTX and want to add the external connectivity, tell your Dell rep to look for part # 405-AAJS (single SPERCe) or 405-AAJP (dual SPERCe).
Of course, you'll need the storage mentioned above, but also make sure you order the right amount of 6Gbps mini-sas cables (4 for single MD, 6 for 2 x MDs in a fault tolerant design.)
Lastly, you will need to make sure you have the following updates:

Kevin Houston is the founder and Editor-in-Chief of BladesMadeSimple.com.  He has over 18 years of experience in the x86 server marketplace.  Since 1997 Kevin has worked at several resellers in the Atlanta area, and has a vast array of competitive x86 server knowledge and certifications as well as an in-depth understanding of VMware and Citrix virtualization.  Kevin has worked at Dell as a Server Sales Engineer covering the Global Enterprise market since August 2011.
Disclaimer: The views presented in this blog are personal views and may or may not reflect any of the contributors' employer's positions. Furthermore, the content is not reviewed, approved or published by any employer.