A newly published study by Principled Technologies reports in tests that the Dell PowerEdge M1000e blade environment delivered up to 91.7% greater throughput while running a virtualized OLTP database workload compared to a similarly priced Cisco UCS 5108 blade environment.  In addition they found that the Dell environment delivered consistent scaling as blade servers were added versus the performance degradation observed in the Cisco environment.
The testing environment performed by Principled Technologies included a comparison of database performance in similarly priced solutions:
Dell PowerEdge M1000e with 8 x PowerEdge M630 blade servers each powered by Intel Xeon E5-2690 v3 CPUs plus redundant 16Gb Brocade M6505 16Gb Fibre I/O Switch Modules
Cisco UCS 5108 with 8 x UCS B200 M4 blade servers (same CPU)
Both blade environments used:
Dell Storage SC9000 Array Controller
2 x Dell SC420 12Gb SAS Enclosures (all flash)
VMware vSphere 6
Silly Little Oracle Benchmark (SLOB) 2.2 OLTP database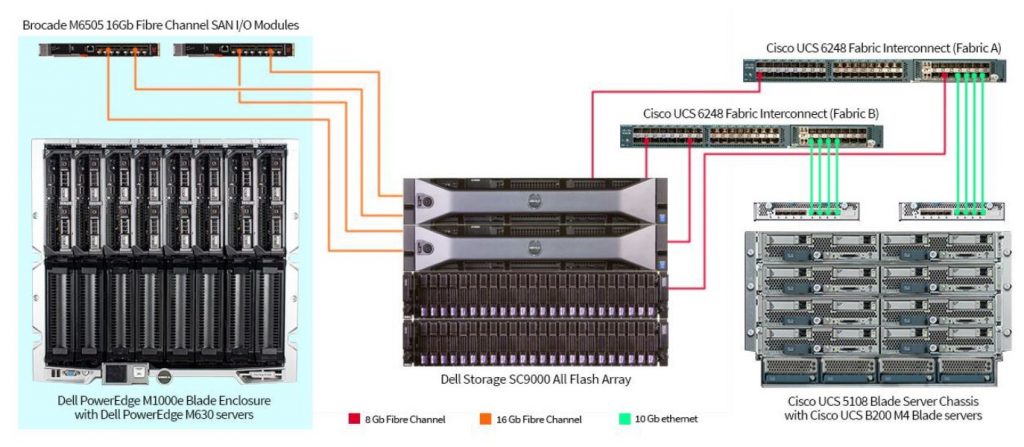 Within the testing parameters, Principled Technologies found that the Dell PowerEdge M1000e blade environment delivered 250,000 IOPS – a 91.7% greater total than the Cisco UCS environment with no major performance degradation on any single VM.  They also found that throughout the duration of the test, the Dell PowerEdge M1000e blade server environment read and write response time increased only slight as the number of blade servers increased.  In comparison, the Cisco UCS blade environment response time increased dramatically as blade servers were added.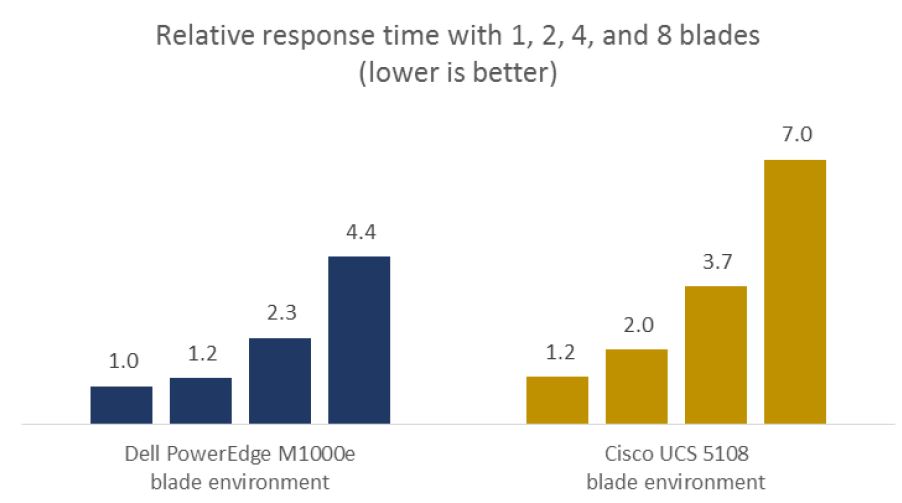 To review the entire report, including the steps taken during the test, visit http://www.principledtechnologies.com/Dell/M1000e_Cisco_UCS_0416.pdf

Kevin Houston is the founder and Editor-in-Chief of BladesMadeSimple.com.  He has over 19 years of experience in the x86 server marketplace.  Since 1997 Kevin has worked at several resellers in the Atlanta area, and has a vast array of competitive x86 server knowledge and certifications as well as an in-depth understanding of VMware and Citrix virtualization.  Kevin has worked at Dell as a Server Sales Engineer covering the Global Enterprise market since August 2011.
Disclaimer: The views presented in this blog are personal views and may or may not reflect any of the contributors' employer's positions. Furthermore, the content is not reviewed, approved or published by any employer.