In the absence of blade server news, I thought I'd take a look back at one of the coolest blade servers I've seen – the HP E5000 Messaging System, circa 2011.  Let's review why it was head of its time.
Although this technically wasn't listed in HP's portfolio as a "blade server", it was a syst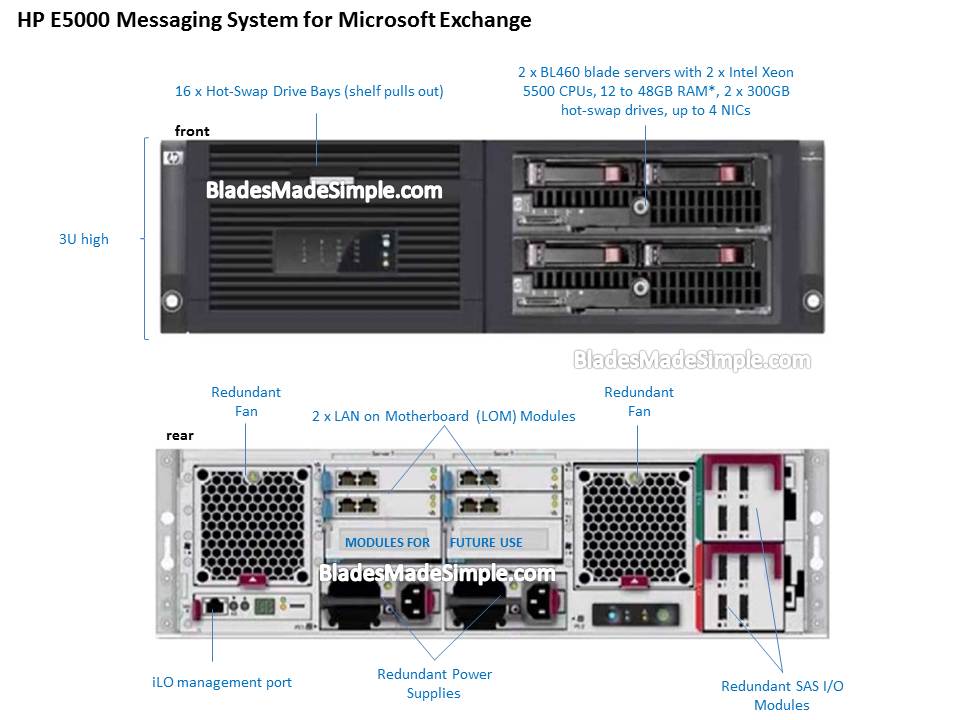 em that used 2 x BL460 blade servers.   As you can tell by the name, the system was designed for Microsoft Exchange – back during the timeframe where Microsoft started recommending using a lot of local storage for Exchange Server 2010.  Inside of this 3U chassis, not only did HP get 2 blade servers but they also got 16 x hot-plug drives in addition to optional external connections to SAS storage.  My only hesitation to categorize this system in the "blade server" ecosystem is that it didn't have embedded networking.  Instead, each server had access to 2 x LAN on Motherboard modules.  That said, it did have a shared iLO management port, so six of one, half dozen of the other.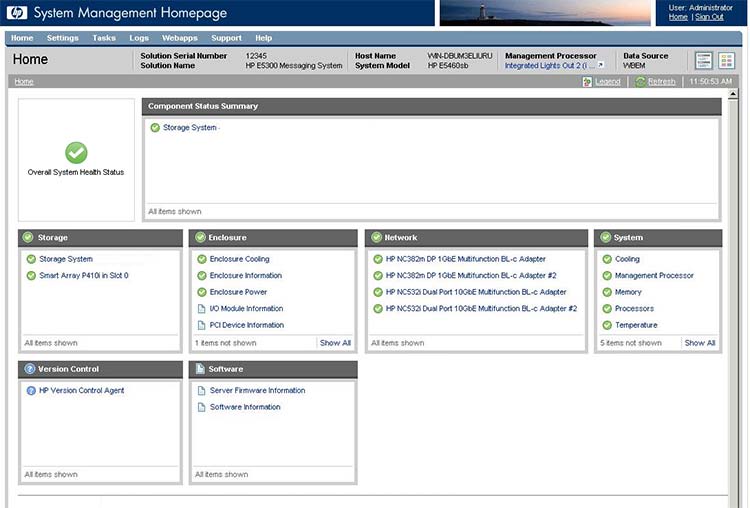 The chassis also had an Enclosure Management Unit, or EMU, that provides access to the chassis environmental information (via an EMU processor) and it provided connectivity to the blades server iLO ports.  Here's a glimpse of what the management looks like.  If you have HP gear already, it should look familiar:
As we look into the future with Edge computing, this type of ecosystem, updated with newer CPUs, PCIe and optional GPUs, could be a great offering for remote environments.  Oh, and if you were wondering if this system is still around, it's not.  According to the QuickSpecs, it was retired in 2015.

Kevin Houston is the founder and Editor-in-Chief of BladesMadeSimple.com.  He has over 20 years of experience in the x86 server marketplace.  Since 1997 Kevin has worked at several resellers in the Atlanta area, and has a vast array of competitive x86 server knowledge and certifications as well as an in-depth understanding of VMware and Citrix virtualization.  Kevin has worked at Dell EMC since August 2011 is a Principal Engineer and Chief Technical Server Architect supporting the East Enterprise Region at Dell Technologies. He is also a CTO Ambassador in the Office of the CTO at Dell Technologies.
Disclaimer: The views presented in this blog are personal views and may or may not reflect any of the contributors' employer's positions. Furthermore, the content is not reviewed, approved or published by any employer. No compensation has been provided for any part of this blog.