As an Enterprise sales server technologist for Dell Technologies, one of the questions I get quite often is "why should I consider PowerEdge MX?"  It is a great question especially since all of the top blade server vendor offerings have their advantages.  In this post, I'll share my thoughts on the top 3 key differentiators the PowerEdge MX blade portfolio has to offer.

Architectural Advantages – Storage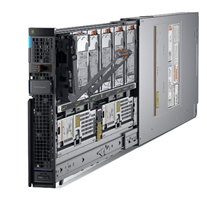 Unlike other 2 socket blade solutions on the market, each PowerEdge MX740c blade server offers up to 6 hot-pluggable HDD, SSD or NVMe drives making it ideal for Software Defined Storage (SDS.)  Additionally, there is an option for 2 internal M.2 SATA SSD devices for the operating system or hypervisor; available with hardware RAID 1 for additional protection.  New to our next generation blade is hardware RAID support for NVMe drives.
Workloads with even more demanding storage requirements can include the optional MX5016s storage system. With support for up to 16 additional hot-plug SAS drives, this device can be used to dedicate drives to a server or to divide the drives between other servers in the enclosure to increase the capacity of an SDS solution.  The MX5016s can currently support 122TB* of flash storage in a single sled which equals 860TB of flash storage within a single 7U PowerEdge MX 7000 enclosure.
Architectural Advantages – Networking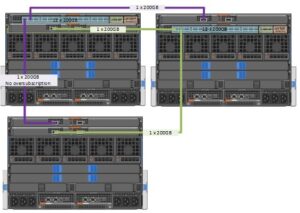 All PowerEdge MX compute devices have standardized on 25Gb/s Ethernet which more than doubles the throughput available with existing 10Gb/s technologies. Unlike competitors that can only support an 8:1 oversubscription, the PowerEdge MX-Series offers network switching options specifically designed to accommodate the full bandwidth of the solution with no oversubscription and no per-port license costs.
With industry-leading latency rates of sub-600ns for anywhere-to-anywhere traffic, the MX9116n Fabric Switch Engine processes network transactions faster than the competition.  The PowerEdge MX7000 enclosure was designed with no networking midplane, so it can quickly and easily transform as new network technology becomes available.
Architectural Advantages – Management
All PowerEdge servers have a dedicated systems management processor that enables individual management at the node (server) level.  Each server's embedded systems management uses a license that is tied to the physical PowerEdge Server, for the life of the server, regardless of the warranty and is available after Point of Sale, avoiding lock-in.  Additionally, there are no additional upsell licenses to enable security features.
The PowerEdge MX can be managed fully out-of-band therefore it does not compete for networking traffic.  All firmware can be updated independent of the operating system, top-of-rack switch or switch vendor and updates are non-disruptive.
OpenManage Enterprise provides updated warranty information for monitored PowerEdge systems, it can allow users to design custom reports for practically anything they need (i.e. finding specific HBAs or CPUs and it can manage rack servers, blade servers, tower servers within one management interface.  It can monitor 3rd party servers as well. OpenManage Enterprise can support up to 8,000 servers globally – rack, tower or blade servers within one management tool at no additional cost for scaling.
PowerEdge server management also offers extended management through other management tools like VMware vCenter, Microsoft System Center, ServiceNow and includes Dev Ops tools like Ansible and Chef.
Test Drive the PowerEdge MX
The PowerEdge MX is a superior modular architecture that is future-proof nd designed to be highly efficient to handle practically any workload. If blade servers are in your future, I encourage you to allow your Dell Technologies account team to provide you with a deeper understanding around the powerful PowerEdge MX architecture so you can better realize.
In order to help you, I created a "test drive" program that you can take advantage of.  You can test drive the following Po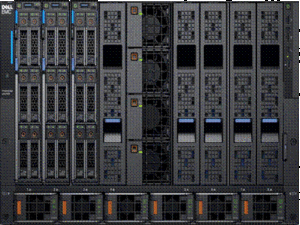 werEdge MX design, risk free**:
1 x PowerEdge MX7000 Chassis
a 7U chassis supporting up to 8 devices (dual CPU servers, quad CPU servers and storage blades), redundant hot-plug power supplies and management controllers
2 x PowerEdge MX9116n Fabric Switch Engine
a high-speed networking engine with all ports active, supporting up to 104 servers at line speed, 25GbE and no over-subscription
3 x PowerEdge MX740c Servers
each built with 2 x Intel Xeon 6230 CPUs (2.10GHz, 20C, 27.5MB cache), 12 x 32GB DDR4 DIMMs, and 2 x 25GbE NICs with option to expand to 6 hot-plug drives, 2 additional 25GbE and 2 x 16/32G Fibre Channel HBAs
This solution comes with a 3 year, 4-Hour 7×24 Support On-site Warranty. At the completion of your trial, you can purchase the architecture or return at no charge.
The PowerEdge MX architecture is powerful, expandable and future-proofed, so give it a try and see how it can give your organization the ability to respond to the market faster at a lower capital expense.  Also make sure to ask your account team about our no charge PowerEdge Test Drive training that will give you all that you needed to know about Dell Technologies servers ranging from reviewing architectures to learning how to operate and support.
**Test drive program is available to qualified customers and subject to evaluation terms and conditions.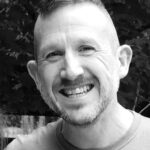 Kevin Houston is the founder and Editor-in-Chief of BladesMadeSimple.com.  He has over 23 years of experience in the x86 server marketplace.  Kevin has a vast array of competitive x86 server knowledge and certifications as well as an in-depth understanding of VMware virtualization.  He has worked at Dell Technologies since August 2011 and is a Principal Engineer supporting the East Enterprise Region and a CTO Ambassador in the Office of the CTO at Dell Technologies.  #IWork4Dell
Disclaimer: The views presented in this blog are personal views and may or may not reflect any of the contributors' employer's positions. Furthermore, the content is not reviewed, approved or published by any employer. No compensation has been provided for any part of this blog.