A recent blog post on Blocksandfiles.com is sparking concerns around the future of Cisco's rack and server business.  Are they on their way out, or is this just a bump in the road.  Here are my thoughts.
Cisco's Server Market Share is (Partially) Down
Based upon the IDC WorldWide Server Tracker from September 9, 2021, Cisco's Year over Year (Y/Y) 2021-Q2 unit shares in rack servers are down .3 pts however they are up 2.3 pts in blade servers.  The Y/Y revenue share in rack servers decreased .7 pts, however in blade servers they went up .8 pts.
Q1-2021 was a similar story with Cisco's rack server unit / revenue Y/Y share down .3 and .6 pts respectively versus their blade server unit / revenue share up 4.7 and 4.9 pts. (based on the IDC WW Server Tracker from June 10, 2021.)  Instead of boring you with numbers, take a look at the chart over the past 4 quarters.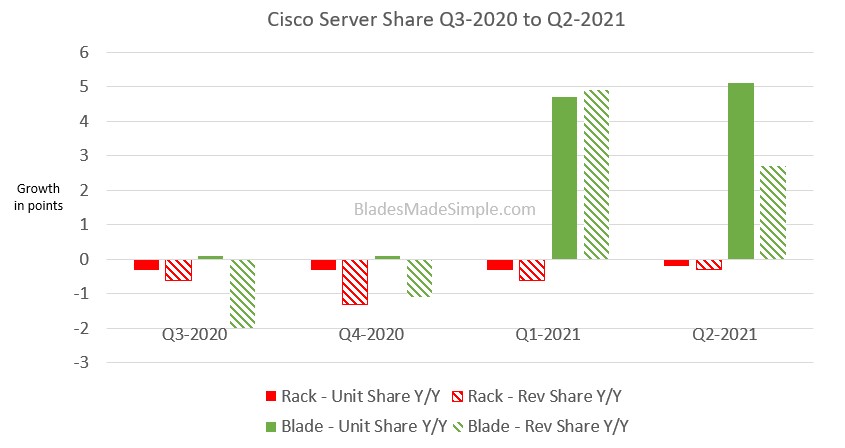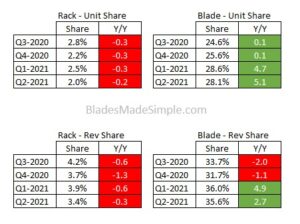 Although Cisco's rack server numbers are down, their blade server numbers are up.  Cisco remains focused on blade servers and are likely shifting workloads off rack servers toward blade servers.
Cisco Just Announced A New Blade Architecture
As I blogged about a few months ago, Cisco just launched a new blade architecture.  Let's stop and think about that point just for a minute.  To design, manufacture and launch a new product take several years, lots of man hours and lots of money.  If the speculation from Blocksandfiles.com is correct, Cisco would be throwing away a lot of $$.  I can't think of a time where a company launched a new product and then discontinued it within 18 months, but there are some rare cases where that happened.
In addition, I happen to know that Cisco is growing their server expertise within the company as evidence of a "Technical Solutions Architect – Data Center" job posting in mid-August.  This job was a global position designed to grow their X-Series server practice.  That job posting has since been removed, but it's likely because they filled the position.
Maybe Cisco is Changing How They Do Compute
As a final thought, what if Cisco didn't mention servers in the analyst call because they are in the process of changing how they do compute.  Keep in mind, like the Blocksandfiles.com blog post, I don't have any clue what Cisco's actual plans are ('cause #IWork4Dell) however it makes sense.  When you look at their systems management focus (Intersight) you see that it is cloud-based, so what if they shift their compute focus to offering compute in the cloud (aka "Compute-As-A-Service"?)
Those are my thoughts – I'd be curious to know what you think.  Leave your comments below.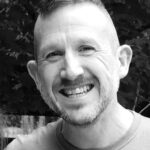 Kevin Houston is the founder and Editor-in-Chief of BladesMadeSimple.com.  He has over 23 years of experience in the x86 server marketplace.  Kevin has a vast array of competitive x86 server knowledge and certifications as well as an in-depth understanding of VMware virtualization.  He has worked at Dell Technologies since August 2011 and is a Principal Engineer supporting the East Enterprise Region and a CTO Ambassador in the Office of the CTO at Dell Technologies.  #IWork4Dell
Disclaimer: The views presented in this blog are personal views and may or may not reflect any of the contributors' employer's positions. Furthermore, the content is not reviewed, approved by any employer. No compensation has been provided for any part of this blog.