Updated 5/24/2010 – I've received some comments about expandability and I've received a correction about the speed of Dell's memory, so I've updated this post.  You'll find the corrections / additions below in GREEN.
Since I've received a lot of comments from my post on the Dell FlexMem Bridge technology, I thought I would  do an unbiased comparison between Dell's FlexMem Bridge technology (via the PowerEdge 11G M910 blade server) vs IBM's MAX5 + HX5 blade server offering.  In summary both offerings provide the Intel Xeon 7500 CPU plus the ability to add "extended memory" offering value for virtualization, databases and any other workloads that benefit from large amounts of memory.
The Contenders
IBM
IBM's extended memory solution is a two part solution consisting of the HX5 blade server PLUS the MAX5 memory blade.
HX5 Blade Server
I've spent considerable time on previous blogs detailing the IBM HX5, so please jump over to those links to dig into the specifics, but at a high level, the HX5 is IBM's 2 CPU blade server that offers the Intel Xeon 7500 CPU.   The HX5 is a 30mm, "single wide" blade server therefore you can fit up to

14 in an IBM BladeCenter H

blade chassis. 
MAX5
The MAX 5 offering from IBM can be thought of as a "memory expansion blade."  Offering an additional 24 memory DIMM slots, the MAX5 when coupled with the HX5 blade server, provides a total of 40 memory DIMMs.    The MAX5 is a standard "single wide", 30mm form factor so when used with a single HX5 two IBM BladeCenter H server bays are required in the chassis.
DELL
Dell's approach to extended memory is a bit different.  Instead of relying on a memory blade, Dell starts with the M910 blade server and allows users to use 2 CPUs plus their FlexMem Bridge to access the memory DIMMs of the 3rd and 4th CPU sockets.  For details on the FlexMem Bridge, check out my previous post.
PowerEdge 11G M910 Blade Server
The M910 is a 4 CPU capable blade server with 32 memory DIMMs.  This blade server is a full-height server therefore you can fit

8 servers

inside the Dell M1000e blade chassis.
The Face-Off
ROUND 1 – Memory Capacity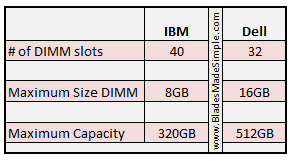 When we compare the memory DIMMs available on each, we see that Dell's offering comes up with 32 DIMMs vs IBM's 40 DIMMs.  However, IBM's solution of using the HX5 blade server + the MAX 5 memory expansion has a current maximum memory size is 8Gb whereas Dell offers a max memory size of 16Gb.  While this may change in the future, as of today, Dell has the edge so I have to claim: 
Round 1 Winner:  Dell
ROUND 2 – Memory Performance
As many comments came across on my posting of the Dell FlexMem Bridge technology the other day, several people pointed out that the memory performance is something that needs to be considered when comparing technologies.  Dell's FlexMem Bridge offering reportedly runs at a maximum memory speed of 833Mhz,  runs at a max of 1066Ghz, but is dependent upon the speed of the processor.  A processor that has a 6.4GT QPI supports memory @ 1066Ghz ; a processor that supports 5.8GT/s QPI supports memory at 978Mhz, and a processor with a QPI speed of 4.8GT runs memory at 800Mhz.  This is a component of Intel's Xeon 7500 architecture so it should be the same regardless of the server vendor.  Looking at IBM, we see the  HX5 blade server memory runs at a maximum of 978Mhz.    However, when you attach the MAX5 to the HX5 for the additional memory slots, however, the memory runs at speed of 1066Mhz, regardless of the speed of the CPU installed.  While this appears to be black magic, it's really the results of IBM's proprietary eXa scaling – something that I'll cover in detail at a later date.   Although the HX5 blade server memory, when used by itself, does not have the ability to achieve 1066Ghz, this comparison is based on the Dell PowerEdge 11G M910 vs the IBM HX5+MAX5.  With that in mind, the ability to run the expanded memory at 1066Mhz gives IBM the edge in this round.
Round 2 Winner:  IBM
ROUND 3 – Server Density
This one is pretty straight forward.  IBM's HX5 + MAX5 offering takes up 2 server bays, so in the IBM BladeCenter H, you can only fit 7 systems.  You can only fit 4 BladeCenter H chassis in a 42u rack, therefore you can fit a max of 28  IBM HX5 + MAX5 systems into a rack.
The Dell PowerEdge 11G M910 blade server is a full height server, so you can fit 8 servers into the Dell M1000e chassis.  4 Dell chassis will fit in a 42u rack, so you can get 32 Dell M910's into a rack.
Round 3 Winner:  Dell
(NEW) ROUND 4 – Expandability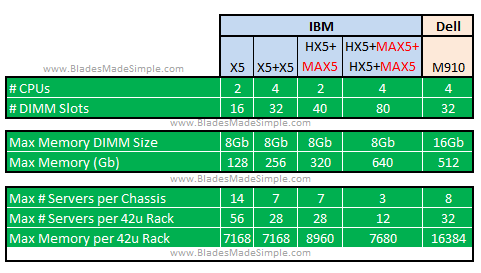 It was mentioned several times in the comments that expandability should have been reviewed as well.  When we look at Dell's design, we see there two expansion options: run the Dell PowerEdge 11G M910 blade with 2 processors and the FlexMem Bridge, or run them with 4 processors and remove the FlexMem Bridge.
The modular design of the IBM eX5 architecture allows for a user to add memory (MAX5), add processors (2nd HX5) or both (2 x HX5 + 2 x MAX5).  This provide users with a lot of flexibility to choose a design that meets their workload.
Choosing a winner for this round is tough, as there a different ways to look at this:
Maximum CPUs in a server: TIE – both IBM and Dell can scale to 4 CPUs. 
Maximum CPU density in a 42u rack:  Dell wins with 32 x 4 CPU servers vs IBM's 12.
Maximum Memory in a server: IBM with 640Gb using 2 x HX5 and 2 x MAX5
Max Memory density in a 42u Rack: Dell wins with 16Tb
Round 4 Winner:  TIE
Summary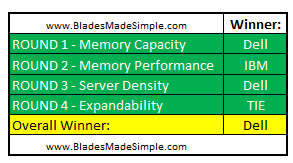 While the fight was close, with a 2 to 1 win, it is clear the overall winner is Dell.  For this comparison, I tried to keep it focused on the memory aspect of the offerings. 
On a final note, at the time of this writing, the IBM MAX 5 memory expansion has not been released for general availability, while Dell is shipping their M910 blade server. 
There may be other advantages relative to processors that were not considered for this comparison, however I welcome any thoughts or comments you have. 
e cigarette reviews
la superior court traffic
bone marrow donation
israeli palestinian conflict
groupon seattle