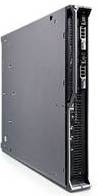 The VMware VMmark web site was recently updated to show Dell's PowerEdge M910 blade server in the #1 slot (for blades) in the 16 core space. I think the PowerEdge M910 is very intriguing, so I thought I'd spend some time highlighting the features. Before I begin, let me explain what the VMmark testing is about.   VMmark enables equipment manufacturers, software vendors, system integrators and other organizations to:
Measure virtual machine performance accurately and reliably
Determine the performance of different hardware and virtualization platforms
Make appropriate hardware decisions for your virtual infrastructure
VMware developed VMmark as a standard methodology for comparing virtualized systems. According to VMware's VMmark website, the benchmark system in VMmark is comprised of a series of "sub-tests" that are derived from commonly used load-generation tools, as well as from benchmarks developed by the Standard Performance Evaluation Corporation (SPEC®). In parallel to VMmark, VMware is a member of the SPEC Virtualization subcommittee and is working with other SPEC members to create the next generation virtualization benchmark.
In testing the terms, a "tile" is simply a collection of virtual machines (VM's) that are executing a set of diverse workloads designed to represent a natural work environment.   The total number of tiles that a server can handle provides a detailed measurement of that server's consolidation capacity.  The more tiles, the better.  The faster the performance, the better.
Top 3 VMmark Results for 16 Core Blade Servers (as of 8/5/2010)…click on the link to open the details
 #1 – Dell PowerEdge M910 (2 Sockets, 16 cores;  Intel Xeon X7560 CPU) running VMware ESX v4.0 –37.11@26 tiles (published 7/13/2010)
#2 – Dell PowerEdge M905 (4 Sockets, 16 cores;  AMD Opteron 8393 SE) running VMware ESX v4.0 – 22.90@17 tiles (published 6/19/2009)
#3 – HP ProLiant BL685 G6 (Four Core AMD Opteron 8389) running VMware ESX v4.0 – 20.87@14 tiles (published 4/24/2009)
About the Dell PowerEdge M910 Blade Server
Some details about the server:
uses Intel Xeon 7500 or 6500 CPUs
has support for up to 512GB using 32 x 16 DIMMs
comes 4 Ethernet ports via two embedded Broadcom NetExtreme II Dual Port 5709S Gigabit Ethernet NICs with failover and load balancing.
has two 2.5″ Hot-Swappable SAS/Solid State Drives
4 available I/O mezzanine card slots
comes with a Matrox G200eW w/ 8MB memory standard
can function on 2 CPUs with access to all 32 DIMM slots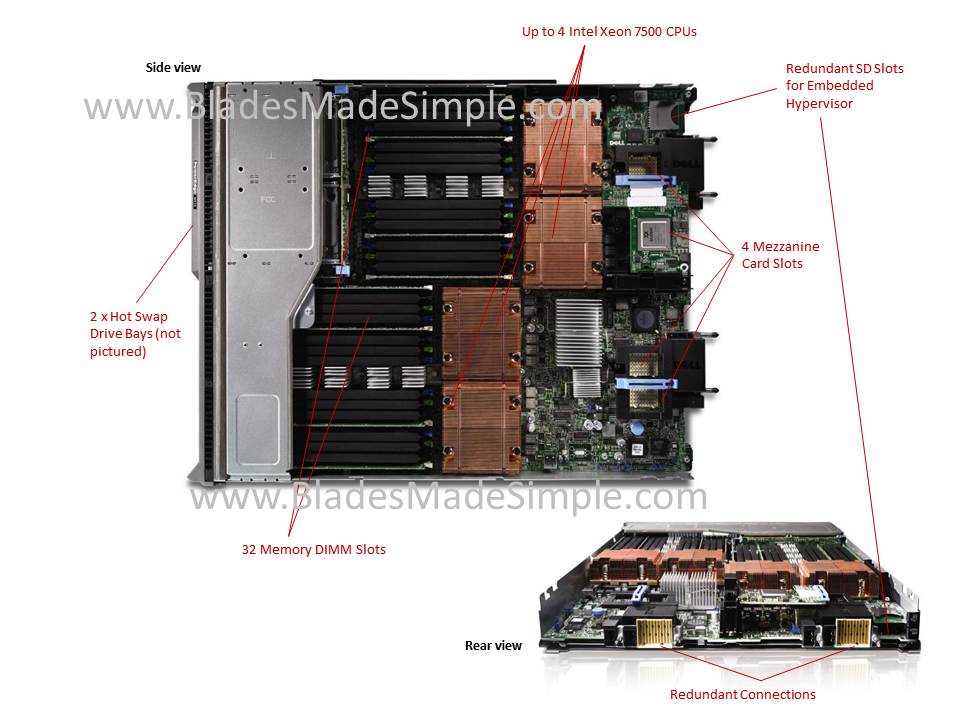 One important note is that Dell has 4 I/O mezzanine cards.  This is very important to understand, so let's take a look at the Dell M1000e Chassis' I/O Mapping.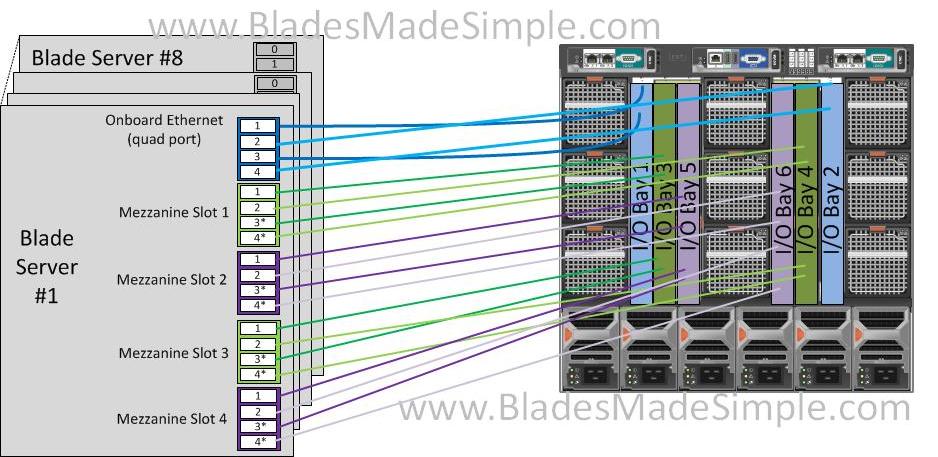 YES – this looks complex, but it's not.  Here's the breakdown by I/O Bay Module.  For the record, I have them labeled as "I/O Bay 1 – 6" however Dell uses "A1, A2, B1, B2 and C1, C2".  They are the same – I just listed them numerically to make it easier to follow.
I/O Bays 1 and 2
These I/O Bays are connected to the on-board Ethernet.  In the case of the M910, there are 4 Ethernet ports.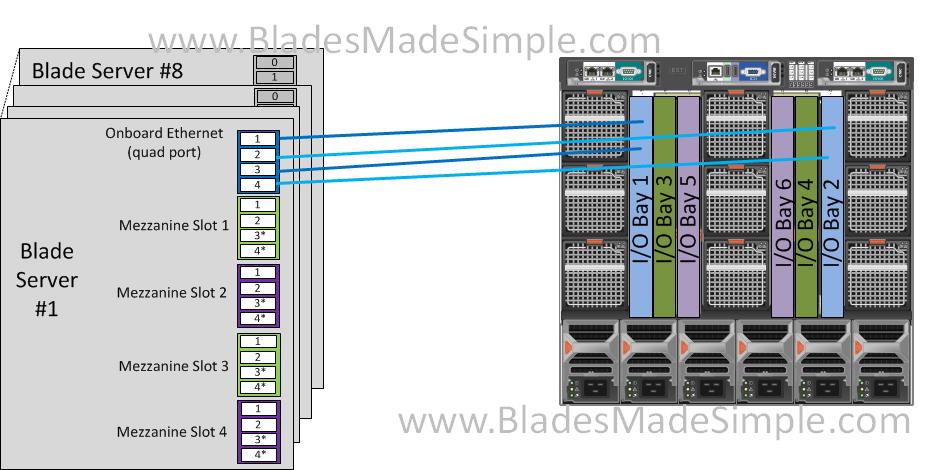 I/O Bays 3 and 4 
These I/O Bays are connected to Mezzanine Card Slots 1 and 3.  These can provide 4 ports per card if a QUAD port card is used – otherwise, only two ports would be used.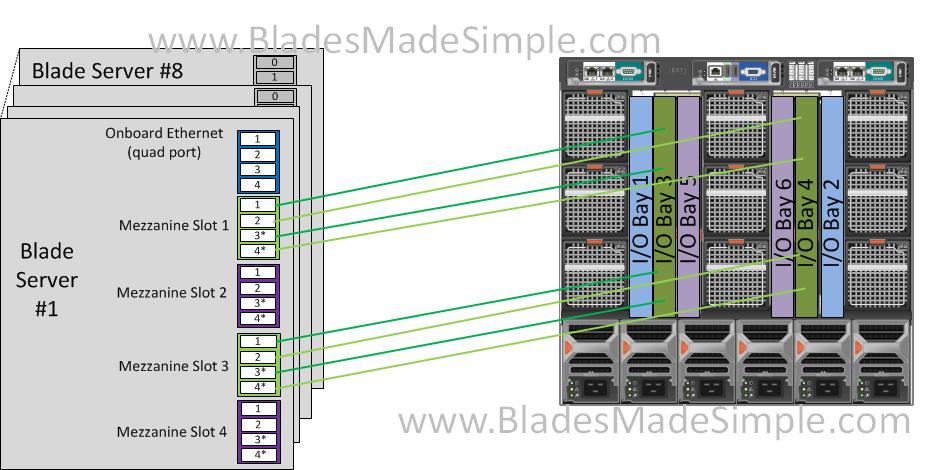 These I/O Bays are connected to Mezzanine Card Slots 2 and 4.  These can provide 4 ports per card if a QUAD port card is used – otherwise, only two ports would be used.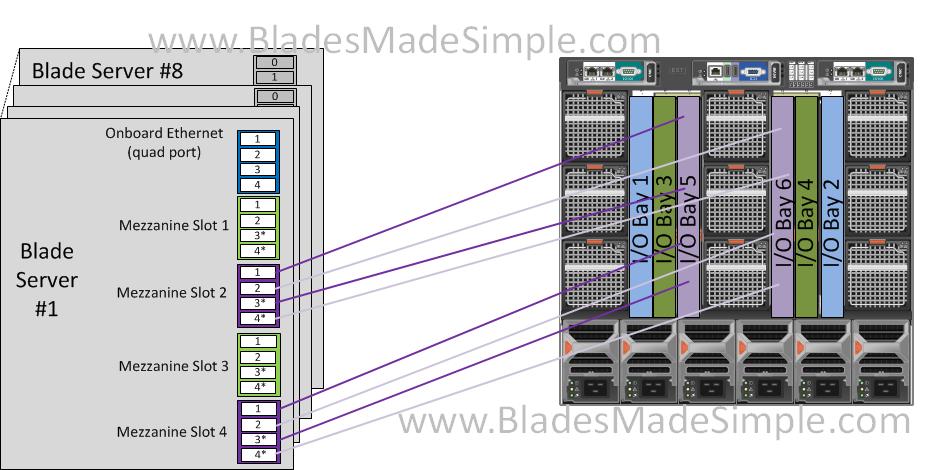 From the design of the Dell M1000e Chassis, you can see that Dell's M910 offers:
a) physically redundant card connections
b) Up to 20 ports of I/O
Let me give an real-world example of how Dell's blade architecture can be very exciting.  Imagine you have a need for 12 Ethernet Adapters and 2 Fibre HBAs, however you want to have redundant, physical fibre HBAs.  You can do this with the M910 blade server:
4 Ethernet Ports on the motherboard
+ 4 Ethernet NICs (via a Quad Port Ethernet Adapter) on Mezzanine card 1
+ 2 Fibre HBA ports on Mezzanine card 2
+ 4 Ethernet NICs (via a Quad Port Ethernet Adapter) on Mezzanine card 3
+ 2 Fibre HBA ports on Mezzanine card 2
= 12 Ethernet Ports and 4 Fibre Ports (redundant)
In fact – if you didn't need the Fibre HBAs, you could put in 2 x Quad port Ethernet cards and have ANOTHER 8 Ethernet ports (total of 20)!  This is remarkable!  No more physical I/O port limitations, you can achieve the quantity of I/O ports you need without moving to 10Gb.
FlexMem Bridge Technology Allows for More Memory in 2 Sockets
Intel's Xeon 7500 architecture requires that you have a processor to access the associated memory DIMMs.  However, Dell created an innovative design that allows for you to use the memory associated with a 3rd and 4th processor

without

the need for the processors.  This technology is called "

FlexMem Bridge

."  Dell's FlexMem Bridge technology allows for you to sits in CPU sockets #3 and #4 and connects a memory controller from CPU 1 to the memory DIMMs associated to CPU socket #3 and CPU 2 to the memory associated to CPU Socket #4.   The FlexMem Bridge does two things:
It extends the Scalable Memory Interconnects (SMI) from CPU 1 and CPU 2 to the memory subsystem of CPU 3 and CPU 4.
It reroutes and terminates the 2nd Quick Path Interconnect (QPI) inter-processor communications links to provide optimal performance which would otherwise be disconnected in a 2 CPU configuration.
Sometimes it's easier to view pictures than read descriptions, so take a look at the picture below for a diagram on how this works.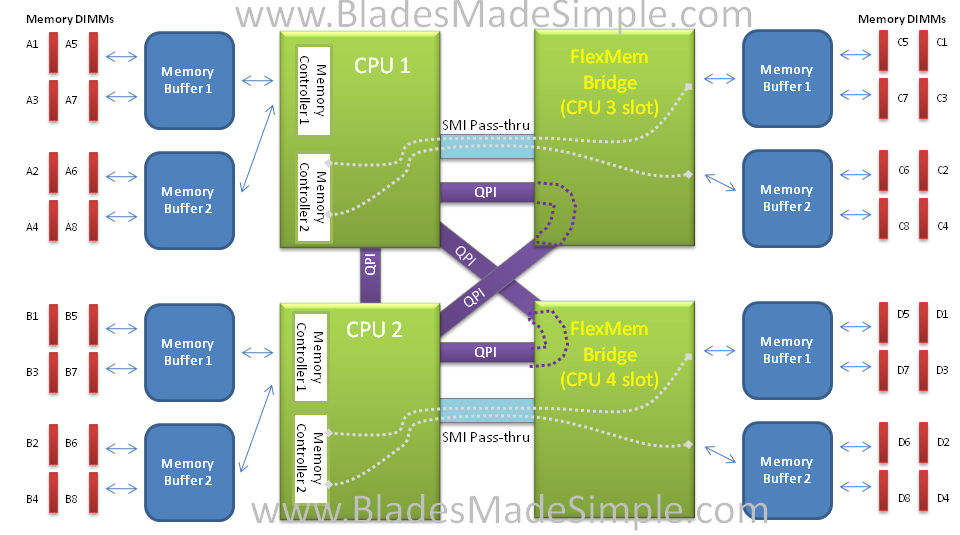 I wrote a post on this technology a few weeks back, so jump over to
this page
and take a look (read the comments – good discussions were had.)
So – that about covers it. 
For more information on the Dell PowerEdge M910, check out the PowerEdge M910 Product Site at
http://www.dell.com/us/en/enterprise/servers/poweredge-m910/pd.aspx?refid=poweredge-m910&s=biz&cs=555
cheap date ideas
mitt romney net worth
home depot promotion code
native american culture
florida state college