I'd like to begin 2013 first by saying thank you to you, the reader.  I created BladesMadeSimple.com in October of 2009 with the goal of creating a repository of blade server related material for my own use modeled after Rich Bramley's virtualization blog, vmetc.com.  About 3 months after creation of the inception, BladesMadeSimple gained industry visibility after I wrote the blog post titled,
"The Hit Movie, AVATAR Processed on HP Blade Servers" which showcased HP's blade server involvement with the movie Avatar.  Since then, I've strived to keep the information on this site fresh while attempting to be vendor neutral.  Obviously since I took employment by Dell in August 2011, it's been very challenging to create fresh blade server content that was "neutral", so in 2012 I posted the need for contributors to help write about HP, Cisco and IBM.  Fortunately I received help from several contributing writers.  A special thanks goes out to Chris Fricke (Twitter: @sysgeekguy), Thales Osterne, Dwayne Lessner (Twitter: @dlink7) and Daniel Bowers (Twitter: @Daniel_Bowers). 
The Year in Review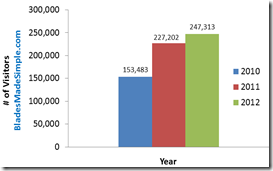 In preparation for writing the blog, I took a look at the # of visitors BladesMadeSimple had in 2012 and I was quite surprised.  We went from 227,202 visitors in 2011 to 247,313!  Honestly, I was shooting for 250k but I dropped the ball in December and didn't provide any new content, so the # of visits suffered.  Oh well, now we have a goal for 2013, right?   
If you are interested in what the top blog articles were, here is a list of the top 10, ranked in order of views:
Looking Toward 2013
I have every intention of continuing BladesMadeSimple.com, but I can't do it without your help.  NO, this isn't a cry for money.  Honestly, the site costs me a few $ a day to run, so I pay for it out of my pocket – what I need from you are ideas.  If you come across an article that you think would be a good topic for this site, send it my way.  If you know of a new product release that needs to be showcased, let me know.  
Another way you can help is by being a contributor.  I'm still looking for people willing to write new blog content – especially if you've got experience with HP, IBM or Cisco, so ping me if you are interested. (It's strictly a volunteer gig, so if you are looking for $$ move on.)   All I ask is that you are passionate and knowledgeable about blade servers.  If you meet these criteria, we could use you, so shoot me a note.
BladesMadeSimple is YOUR site. I'm writing to provide content that YOU want to see, so if I'm missing the mark, let me know.  If I write something that you don't agree with, let me know.  I welcome any comments, thoughts or suggestions.
Thanks for a great 2012 and I hope you'll continue to read BladesMadeSimple.com in 2013.
Kevin Houston is the founder and Editor-in-Chief of BladesMadeSimple.com.  He has over 15 years of experience in the x86 server marketplace.  Since 1997 Kevin has worked at several resellers in the Atlanta area, and has a vast array of competitive x86 server knowledge and certifications as well as an in-depth understanding of VMware and Citrix virtualization.  Kevin works for Dell as a Server Sales Engineer covering the Global 500 market.