Today Intel officially launches the next generation rack, tower and blade server CPU – the Intel Xeon Scalable Processor (SP), formerly known as "Skylake."  Before you invest in this next generation compute, there are a few things you need to know.
What's New?
The first big news is that Intel is combining all of their server CPU offerings into a single family.  Before today, there was the Intel Xeon E5-2600 v4 family for 2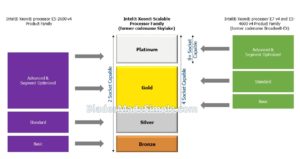 processor servers and the Intel Xeon E5-4600 v4 AND the Intel Xeon E7 families for 4 processor servers.  With today's launch, Intel starts the countdown for the eventual merge of 2 processor and 4 processor stacks into the Intel Xeon SP.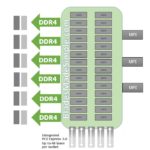 So what does the Intel Xeon SP bring?  In the 14nm CPU design you will find up to 28 CPU cores scaling up to 3.7 GHz with a maximum TDP of 205W.    In addition, this generation of CPUs will offer 6 memory channels along with 12  x DDR4 DIMMs per CPU running at a maximum 2667 MT/s (see chart below for specifics.)
Another change within the Intel Xeon SP is the revision of the QPI, or QuickPath Interconnect.  With the Xeon SP, Intel introduces the UPI, or UltraPath Interconnect with boasts speed of up to 10.4 GT/s bandwidth (vs the previous generation of 9.6GT/s.  The UPI connects CPUs to each other, and with this generation of server, certain CPUs will offer 3 UPIs.

Where this gets interesting is in the 4 socket server offering.  If you choose a CPU with only 2 UPI connections, you'll get a "ring" topology.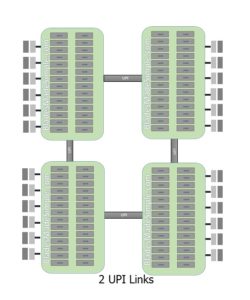 However, if you purchase a CPU with 3 UPI links, you'll get a "cross-bridge" topology.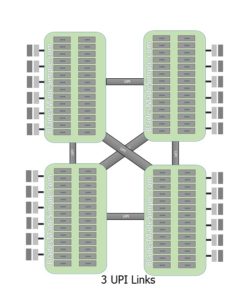 As you can see, choosing the right CPU is vital to insure you have the best performance, which leads me to the next section.
What You Need to Look Out For
Must choose specific SKUs to get high memory.
Unlike the processors before it, the Intel Xeon SP will not allow for more than 768GB of RAM per CPU unless you purchase a processor wit the "M" designation (i.e. Intel® Xeon® Gold 6140M).  This is extremely important because it's hard-coded on the CPU.  If you buy the 6140 (without the "M" designation) and load more than 768GB per socket, expect the system to not boot.  Make sure to look into your crystal ball and insure you know the long-term memory requirements before you pick your CPU.
Your memory standards are likely to change.
With the Intel Xeon E5-2600 family, there are 4 memory channels, so adding memory in groups of 4 per CPU (i.e. 64GB, 128GB, 256GB) was standard.  However, with the Intel Xeon SP, there are now 6 memory channels so you'll be putting in increments of 6 DIMMs per CPU for best performance.  This means your standards will need to shift to 48GB, 96GB, 192GB, etc.  The good news about the shift to 6 memory channels is they are now 2 deep (vs 4 channels that are 3 deep.)  Being only 2 deep, you can insure you'll always run at maximum memory performance, based upon the CPU you select.  No more memory speed drops once you move to 3 DIMMs per Channel (3DPC.)

Apache Pass will be in the next release – and you'll need a new CPU to get it

.
Persistent storage memory is a key trend with this generation of servers, but most vendors are relying on NVDIMM, which is an industry standard.  For a few years, Intel has been talking about their own persistent storage memory which had a code name of "Apache Pass" although you may have seen it as "Intel Optane Technology."  The Intel Xeon SP was scheduled to have Apache Pass technology today, however for reasons unknown, this slipped and is rumored to be available at the next Intel CPU release sometime in the next 12 months.  This means customers who buy the Intel Xeon SP before the next CPU release will not have the ability to use Apache Pass (don't shoot the messenger.)
In summary, the Intel Xeon SP promises a lot of performance gains over previous CPU families, but make sure you take the time to work with your partner and vendors to properly review the offerings.  Thanks for taking the time to read this.  If I've omitted some crucial information, or provided inaccurate information, please leave a comment below or email me at kevin AT bladesmadesimple.com.

Kevin Houston is the founder and Editor-in-Chief of BladesMadeSimple.com.  He has 20 years of experience in the x86 server marketplace.  Since 1997 Kevin has worked at several resellers in the Atlanta area, and has a vast array of competitive x86 server knowledge and certifications as well as an in-depth understanding of VMware and Citrix virtualization.  Kevin has worked at Dell EMC as a Server Sales Engineer covering the Global Enterprise market since August 2011 and currently works as a Chief Technical Architect supporting the Central Region.
Disclaimer: The views presented in this blog are personal views and may or may not reflect any of the contributors' employer's positions. Furthermore, the content is not reviewed, approved or published by any employer. No compensation has been provided for any part of this blog.