Earlier this month Dell EMC unveiled their newest solution of products that combines all of their core products into one system known as PowerOne.  This new system will be fully-engineered and highly-automated with autonomous operations and flexible consumption options and is being positioned as "Autonomous Infrastructure" – but don't call it AI.  If you haven't heard of Autonomous Infrastructure before, it's because it's a new category for products that are beyond Converged Infrastructure. The Dell EMC PowerOne combines PowerEdge MX blade servers with PowerMax storage and connects it via Dell EMC Networking while protecting it with Dell EMC Data Protection.  I'll go more into the components at the end of this post, but first I want to focus on what makes PowerOne unique – the automation.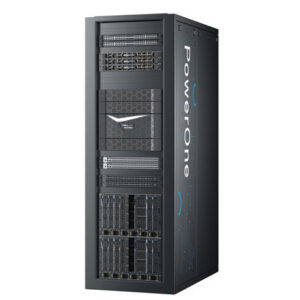 Automation from Beginning to Expansion
One of the major advantages of the Dell EMC PowerOne system lies within the ease of use via automation throughout the system's lifecycle.  Beginning with Launch Assist – a wizard based approach to help initialize the system, optimize for VMware vSphere and simplify the deployment of VMware clusters.  This step includes customer set-up the logical configurations via the API-driven User Interface called PowerOne Navigator where the customer fills in a series of questions (i.e. IP, WorldWide Names, VLANs, VLAN Structure) after which PowerOne takes the information and deploys itself.
Once deployed, PowerOne uses Lifecycle Assist to automate lifecycle management tasks.  When it's time to expand, Expansion Assist aids in the scaling and configuration management of adding capacity and new technologies.  When you combine these automated tasks and compare them to traditional rack and stack deployments, PowerOne offers a 98% reduction in manual tasks (based on internal Dell EMC testing, September 2019.)  
After walking through a demo of these automated capabilities, I can without a doubt agree that this is the one of the easiest deployment designs I've ever seen.  It uses a lot of behind the scenes API calls to help set up the networking, the storage and the compute.  Then it simplifies deploying your VMware clusters.  If there is interest, I'll write up a blog post showing some of the screenshots of the deployment in the future.
What's In the Box
The Dell EMC PowerOne is a "system", not a product.  The initial PowerOne deployment will include a single pod with up to three domains (up to 240 blade servers) and storage arrays: PowerMax 2000 or PowerMax 8000 as well as a pair of Connectrix SAN switches for external storage connectivity and networking connectivity between all components.  Here is what makes up the PowerOne System:
Compute – PowerEdge MX7000 with MX740c blade servers (2 CPU) and MX840c blade servers (4 CPU) sleds
Networking – Dell EMC Networking S5232F-ON (leaf switches), Dell EMC Networking S4148T-ON (management switches), PowerEdge MX9116n Fabric Switch Engines, PowerEdge MX7116n Fabric Expander Modules
Storage – PowerMax Family (2000 ES, 2000 Pro, 8000 ES, 8000 Pro) and Connectrix MDS 9148T or 9396T SAN Switches
Virtualization – VMware vSphere ESXi, vCenter Server and NSX (for the management cluster)
Data Protection – Dell EMC NetWorker (for the PowerOne Controller), Data Domain, Dell EMC Avamar
The sizing and capacity of the solution will vary by design, so reach out to your Dell EMC partner or Account Manager and ask for a detailed discussion.  PowerOne is now shipping, so get with your Dell EMC team and find out if this solution is right for your organization.  For more information, I encourage you to sign up for one of the webinars coming up next month on December 10 at 12 p.m. ET / 5 p.m. GMT.  Here is the
registration link: https://www.dellemc.com/en-us/events/webinar/index.htm#376242.

Kevin Houston is the founder and Editor-in-Chief of BladesMadeSimple.com.  He has over 22 years of experience in the x86 server marketplace.  Since 1997 Kevin has worked at several resellers in the Atlanta area, and has a vast array of competitive x86 server knowledge and certifications as well as an in-depth understanding of VMware and Citrix virtualization.  Kevin has worked at Dell EMC since August 2011 as a Server Sales Engineer covering the Global Enterprise market from 2011 to 2017 and now works as a Principal Engineer and Chief Technical Server Architect supporting the Central Enterprise Region at Dell EMC.
Disclaimer: The views presented in this blog are personal views and may or may not reflect any of the contributors' employer's positions. Furthermore, the content is not reviewed, approved or published by any employer. No compensation has been provided for any part of this blog.