Today Intel lifted the embargo and announced the details of "Ice Lake" – the 3rd generation of Xeon SP CPUs.  This new architecture brings new advantages that will enhance blade server performance.  In this blog post I'll highlight the specifics of what Ice Lake brings compared to the current generation.
Generational Comparison with Cascade Lake
Previously known with the code name of "Ice Lake," the 3rd generation of Intel's Xeon Scalable Processor (SP) adds some long-awaited capabilities.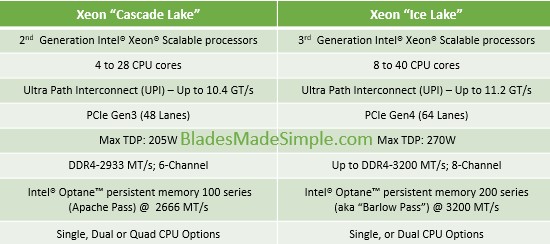 First, the top CPU core offering is moving from 28 in "Cascade Lake" to 40 in "Ice Lake" however the low core count bumps up to 8 cores, up from 4 cores in Cascade Lake.  This could be costly for organizations paying by the core for applications.  Along with the additional cores, we see an increase in the Ultra Path Interconnect (UPI) to 11.2 GT/s which should help with latency in NUMA domains.
Speaking of memory, we now have an additional 2 memory channels of memory bandwidth with Ice Lake.  This provides up to 16 DIMMs per CPU in most blade servers (check with your blade server vendor for confirmation) and translates to 32 DIMMs in a 2 CPU blade server.  In addition we see a performance enhancement of up to 3200 MT/s of DDR4 memory at 2 DIMMs per channel (2 DPC).  This, of course, will depend upon what CPU bin you are using, as the "Silver" bin has a peak of 2667 MT/s.
If your applications use a lot of memory, you no longer have to worry about picking a specific "L" bin processor to support large memory like you do in Cascade Lake, as this goes away with Ice Lake.  This means you can put as much memory as the blade server can handle, including Intel Optane, without any special requirements.  Speaking of Optane, an additional advantage with Ice Lake is that the 2nd generation of Optane persistent memory, officially known as "Intel Optane Persistent Memory, 200 Series" will also run at 3200 MT/s.
Probably the most anticipated benefit is the release of PCIe Gen4 (64 lanes.)  Gen4 of PCIe offers 2x the speed and 2x the bandwidth versus PCIe Gen3.  Expect to see a lot of network and storage vendors start to offer updated cards supporting Gen4 in the near future.
As I wrap up the differences in the generation in the Xeon SP family, there is another one last thing to note.  While Cascade Lake supports up to 4 CPUs (on blade servers) you won't have that luxury with Ice Lake – it only supports 1 or 2 CPUs.  If you need a quad CPU box, you'll need to stick with Cascade Lake, or wait until Intel's next CPU release…
Minimum Operating System Support
My initial information shows that the Intel 3rd Generation Xeon SP will support the following Operating Systems and Hypervisors:
VMware vSAN 7.0 U1 with Patch P02
VMware vSAN 6.7 U3 with Patch P03
VMware ESXi 7.0 U1 with Patch P02
VMware ESXi 6.7 U3 with Patch P03
RHEL 7.9 / 8.2
Ubuntu 20.04
SLES 15 SP2
Windows Server 2019 Data Center Edition w/Hyper-V
Windows Server 2019 Standard Edition w/Hyper-V
Windows Server 2016 Data Center Edition w/Hyper-V
Windows Server 2016 Standard Edition w/Hyper-V
Citrix Xen Hypervisor 8.2 LTSR
As always, this list is subject to change – and there may be additional support for Linux based operating systems, so I'll defer you to Intel or your blade server vendor for confirmation.  Thanks for reading!

Kevin Houston is the founder and Editor-in-Chief of BladesMadeSimple.com.  He has over 20 years of experience in the x86 server marketplace.  Since 1997 Kevin has worked at several resellers in the Atlanta area, and has a vast array of competitive x86 server knowledge and certifications as well as an in-depth understanding of VMware and Citrix virtualization.  Kevin has worked at Dell EMC since August 2011 is a Principal Engineer and Chief Technical Server Architect supporting the East Enterprise Region at Dell Technologies. He is also a CTO Ambassador in the Office of the CTO at Dell Technologies.
Disclaimer: The views presented in this blog are personal views and may or may not reflect any of the contributors' employer's positions. Furthermore, the content is not reviewed, approved or published by any employer. No compensation has been provided for any part of this blog.