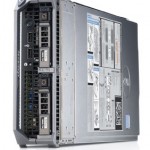 In anticipation of Intel's upcoming E5-2600 CPU (aka Sandy Bridge) announcement, Dell officially announced the 12th Generation of PowerEdge servers today.  Although the specifics of the 12th Generation, or "12G", servers have not yet been released, it is very clear there will be a new blade server added to the Dell PowerEdge portfolio: the M620.
While Dell.com announcement site does not have a lot of the details of what's coming in 12G, The Register has been able to secure some good information on the Dell PowerEdge M620 blade server that I'll share with you.
The M620's size is "half-height"allowing you to put up to 16 inside of the Dell PowerEdge M1000e chassis.

It will hold up to 2 x Intel Xeon E5 CPUs

It will hold up to 768GB of RAM (the same as its tower and rack equivalent)

The M620 has two hot-plug, 2.5-inch drive bays, and can have SSD, SATA disk, or SAS disk drives slid into those two slots. 

The PERC S110 controller with software raid and the PERC H310, H710, and H710P controllers for internal RAID arrays can snap onto this M620 blade. 

The M620 has

two

 SD cards for redundant embedded hypervisors to sit on.
Of course, there are a few other goodies that The Register didn't mention – so I'll hold off talking about until the official Intel announcement.
To read the full article from The Register discussing the next generation of Dell PowerEdge server (including the tower and rack models,) go to http://www.theregister.co.uk/2012/02/27/dell_poweredge_12g_server_launch/
Kevin Houston is the founder and Editor-in-Chief of BladesMadeSimple.com.  He has over 15 years of experience in the x86 server marketplace.  Since 1997 Kevin has worked at several resellers in the Atlanta area, and has a vast array of competitive x86 server knowledge and certifications as well as an in-depth understanding of VMware and Citrix virtualization.    Kevin works for Dell as a Server Specialist covering the Global 500 East market.